So here's the deal, party people, and I have a feeling you might not completely believe me when I tell you this due to the title of this post BUT I've pretty much eliminated junk food from my diet.
Seriously, though.
No junk food, no sweets, lots of veggies and pure eating.
I'm even exercising on a daily basis, switching between running and yoga.
I even ran a 5K yesterday!! My first ever! Here I am with my friend Justine. Her outfit was clearly way superior to my get-up.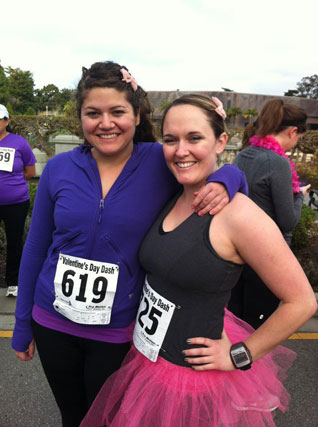 Justine looks so fancy because it was the first (to San Francisco) Love Em or Leave Em Valentines Dash and it was so much fun. I've already signed up for my next 5K with my boyfriend taking place in March in NYC.
Now with all that said, you might be wondering what the eff is up with this post. If I'm riding away so fast and awesome on my high-horse, what's with this crazy ass recipe?
I believe in cheat days. For those of you who aren't familiar with a cheat day, cheat days are the one day a week you can eat pretty much whatever you want (you know, in moderation or whatever). And since Kat and I both swore off junk food, we decided to coordinate our cheat days. Specifically to blog cooking/shooting days.
We both didn't have any junk food for the month of January and just recently started incorporating cheat days into the weekly schedule. And don't worry- I have some of my favorite healthy recipes backlogged who knows where on my computer to post, but since it's almost Valentine's day, I thought I'd do something a little more themed.
The main concept for this recipe was born out of a need to save time. We get one cheat day a week to eat treats. One. I don't have time to eat a cookie AND a cupcake. BOOM. COMBINED. You're welcome.
Let's get to this ridiculously lengthy but well worth-it recipe.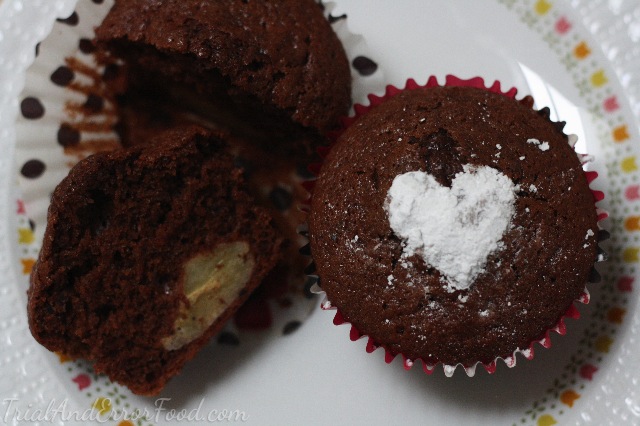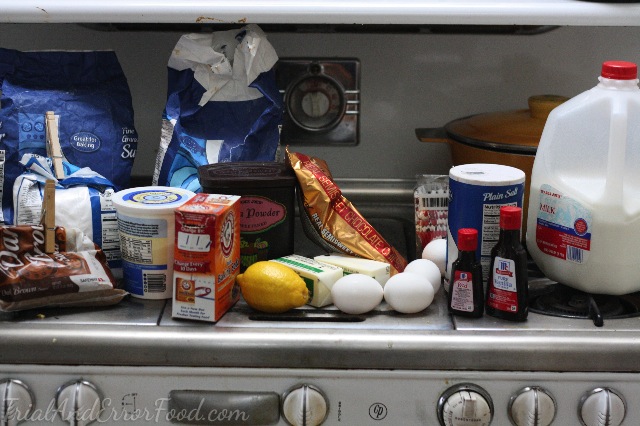 Here's the great boatload of ingredients. White sugar, brown sugar, powdered sugar (for decoration purposes), greek yogurt (in lieu of sour cream which makes me want to gag), AP flour, baking soda, unsweetened cocoa powder, lemon, butter, chocolate chips, eggs, red food coloring, pure vanilla extract, salt and milk. It takes a lot ingredients to stuff your face once a week.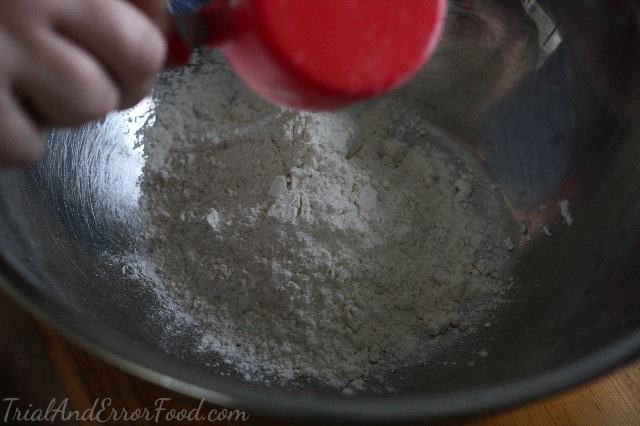 In a medium-ish bowl add your flour.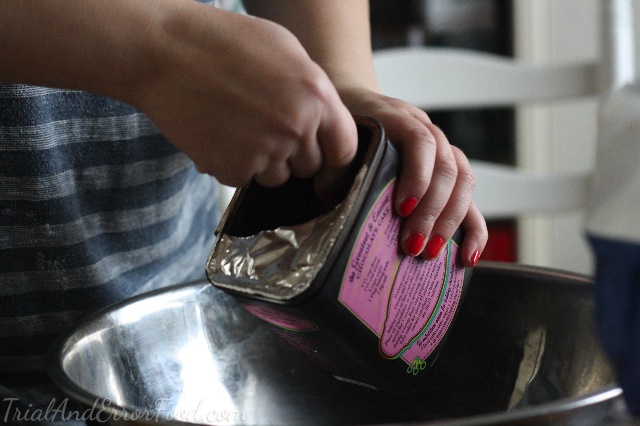 Next it's time for cocoa powder.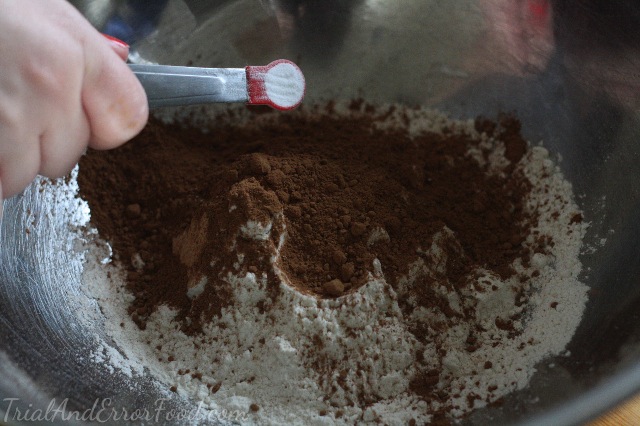 And baking soda.
A bit of salt action.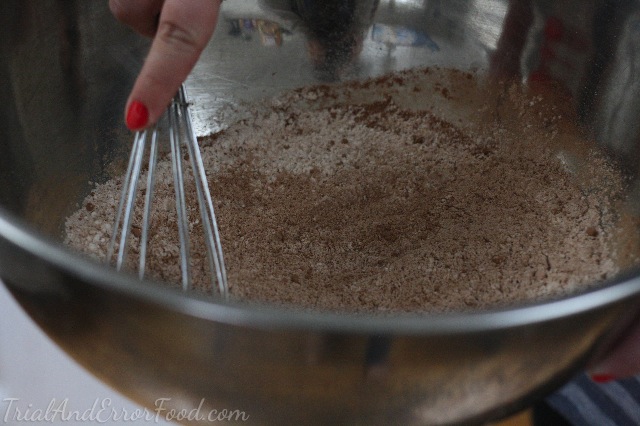 Mix 'em all together and set aside.
In another bowl pour sugar over a stick of butter. I'm pretty sure this is what diabetes looks like. Just make sure to share these with a bunch of friends and you should be fine.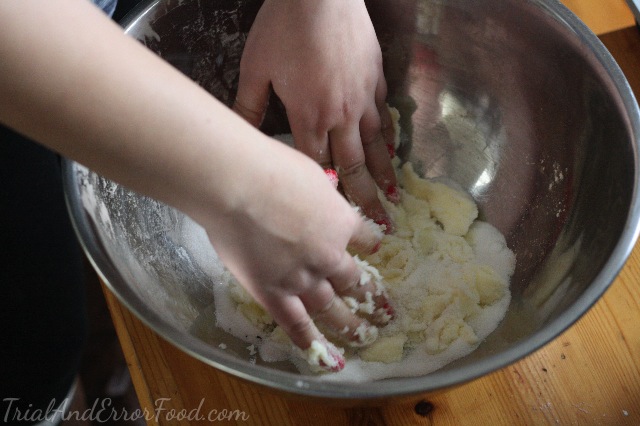 And dig in! Mix using your hands. Or an electric mixer if you're fancy and own one of those. If not, work the sugar into the butter.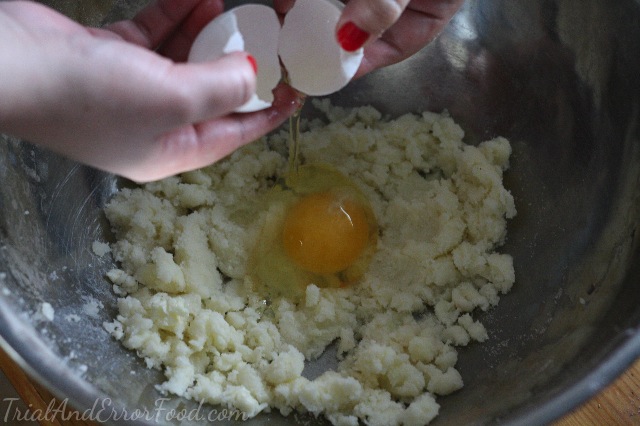 Crack in the first egg.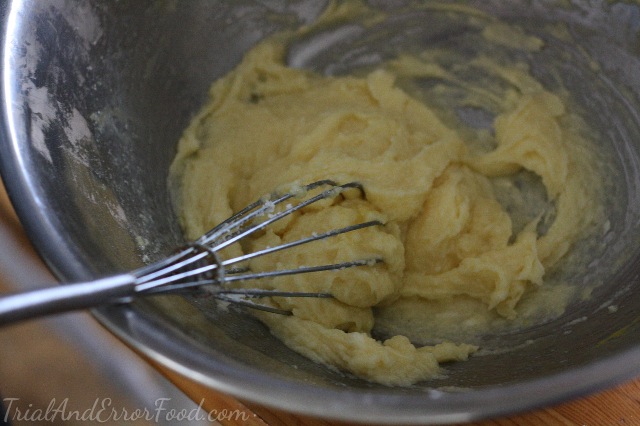 And whisk until incorporated.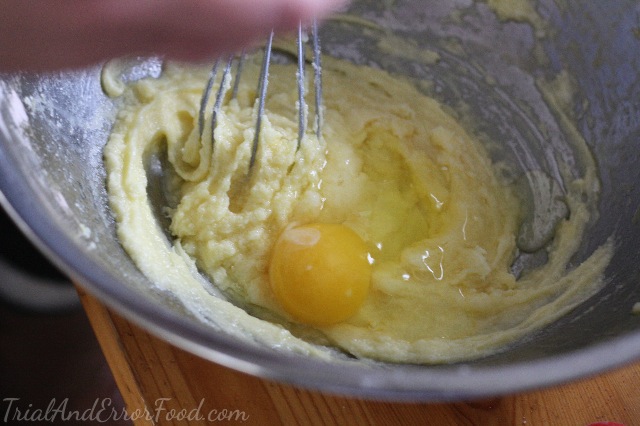 Crack in the other and combine fully.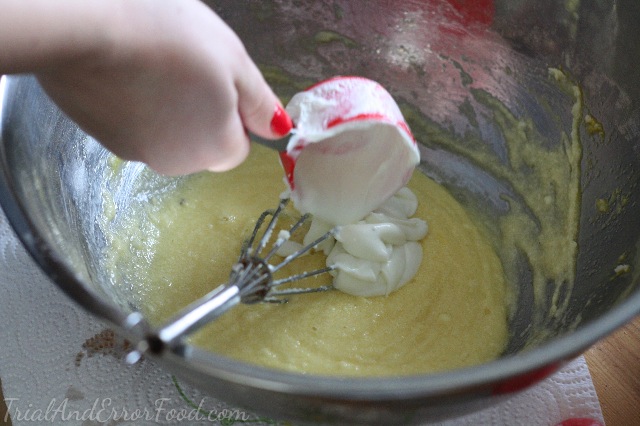 Add in your yogurt. Or sour cream- but I substituted non-fat yogurt I had in the fridge for the sour cream and it worked wonderfully.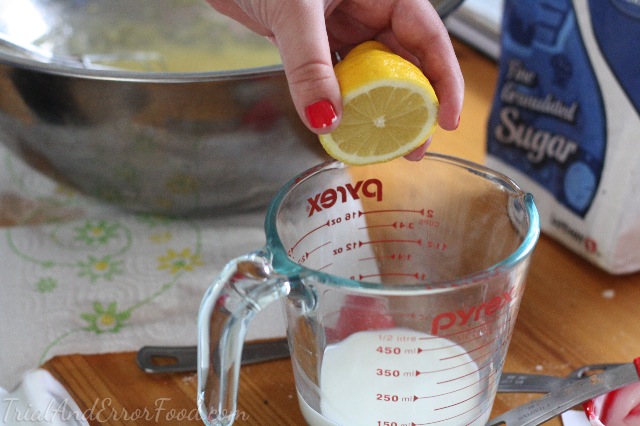 Now for something a little gross. I don't have buttermilk. It costs a bunch and it has like-4 uses total. So, instead of using buttermilk you can sub in milk with a little lemon mixed in. The lemon curdles the milk, acting as a buttermilk. Gross, I know. But it turns into a cookie-filled-cupcake so you can't complain too much.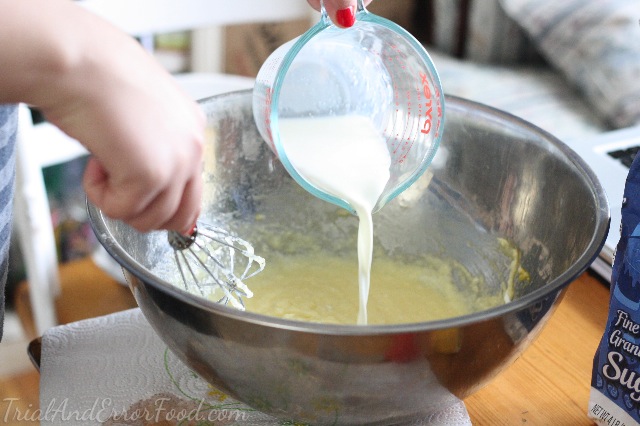 Mix in your milk.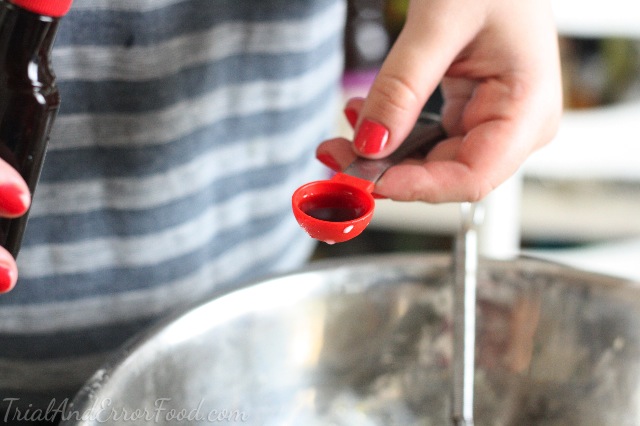 Vanilla is the next to go in.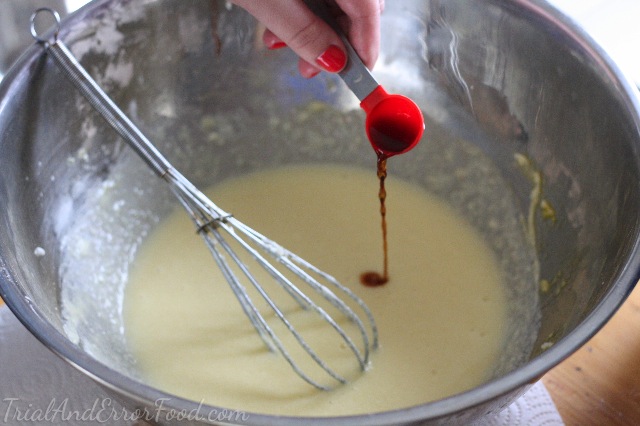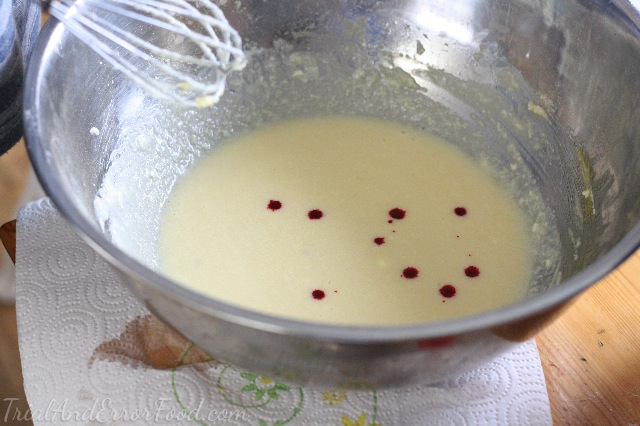 And now your red food coloring. How unceremonious, right? Am I the only one that was a little disheartened when I learned that a red velvet cupcake is basically a chocolate cupcake with red food coloring? It feels like cheating, but whateves.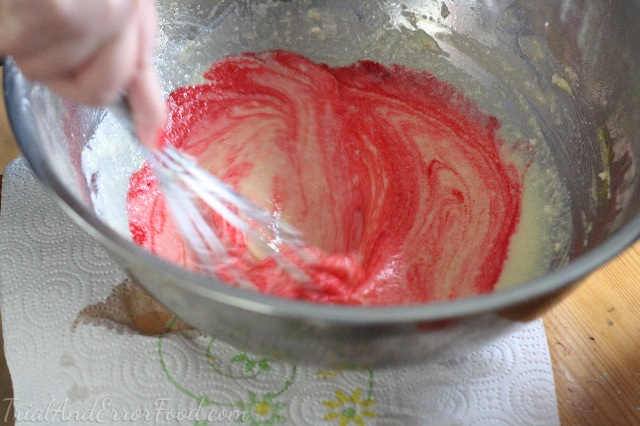 It's so pretty, you forget you're cheating. Oh- and another note. As you can tell by the opening picture, they're not exactly red. Apparently you have to put in a TON of red food coloring to win over the color of the cocoa powder. Just keep adding until you're happy with the coloring.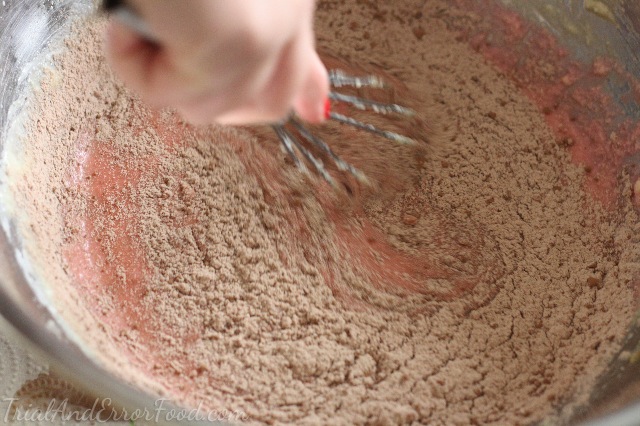 Slowly stir in the cocoa/ flour mixture.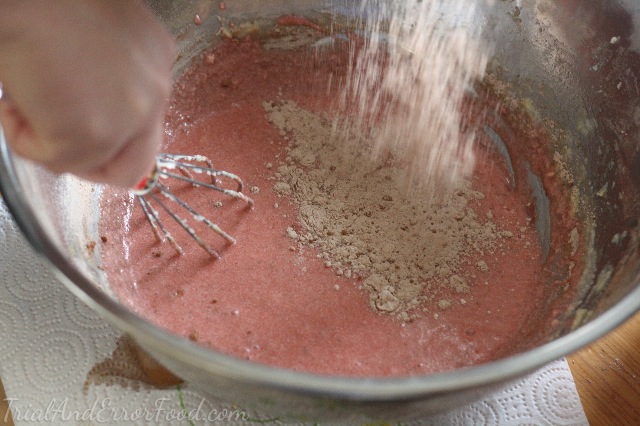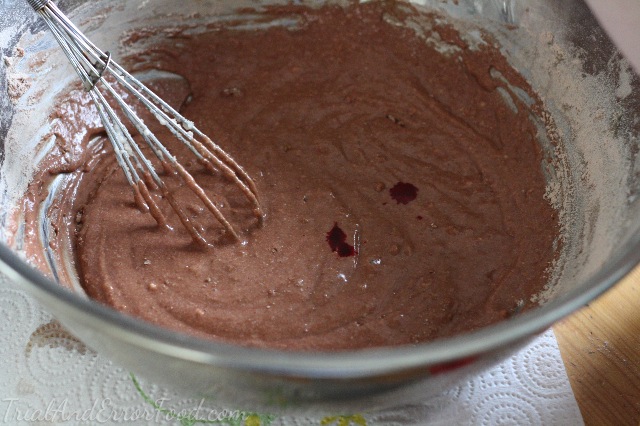 I, in vain, attempted to achieve a richer red color. I obviously failed at that.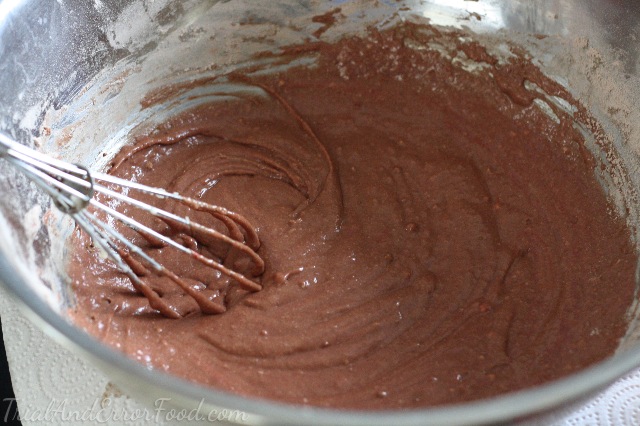 And there's the red velvet batter! You could just bake these off. OR you could fill them with cookie dough. Obvious answer. Let's get to the cookie dough.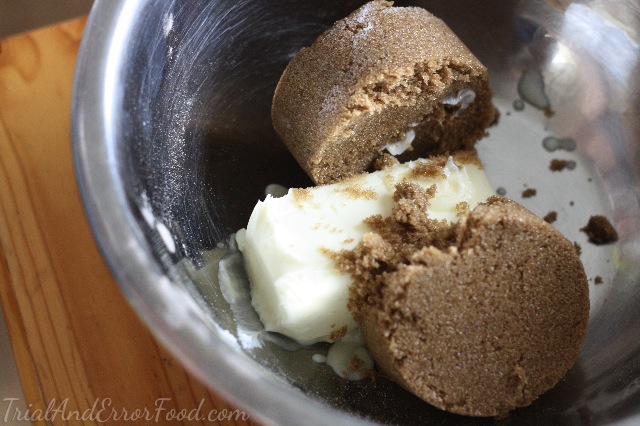 Like all good recipes, this one starts with pouring sugar over a stick of butter. Remember. Share.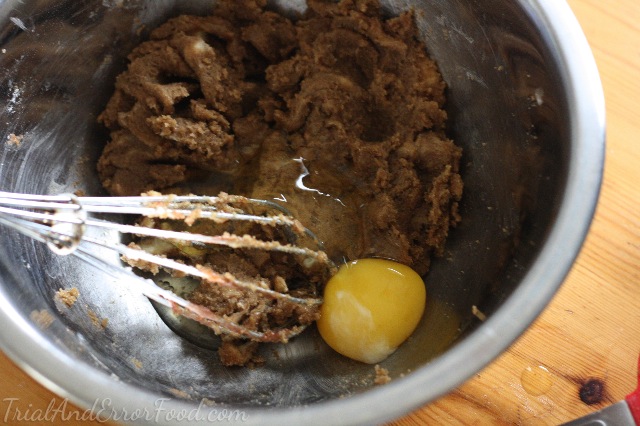 Add yer egg and combine.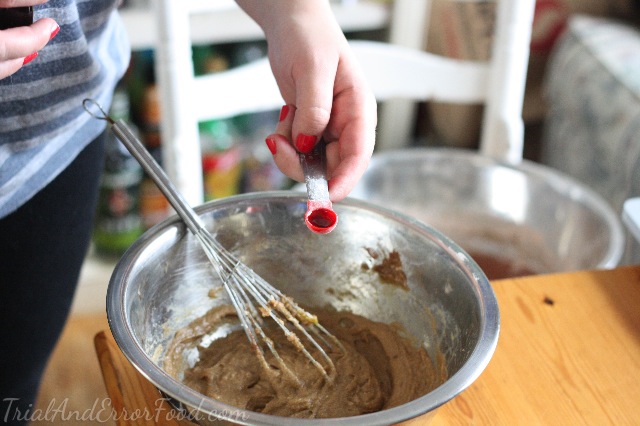 Next goes in the vanilla.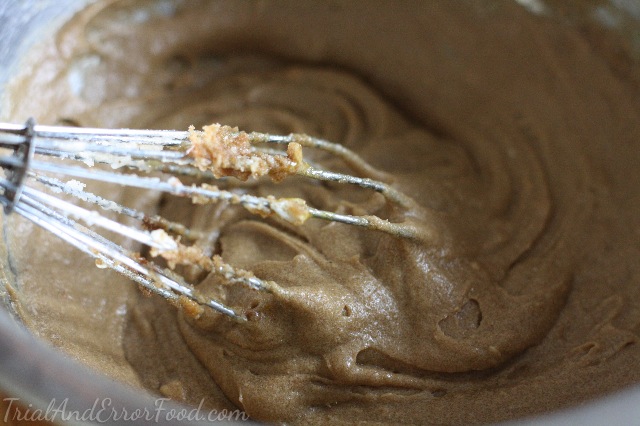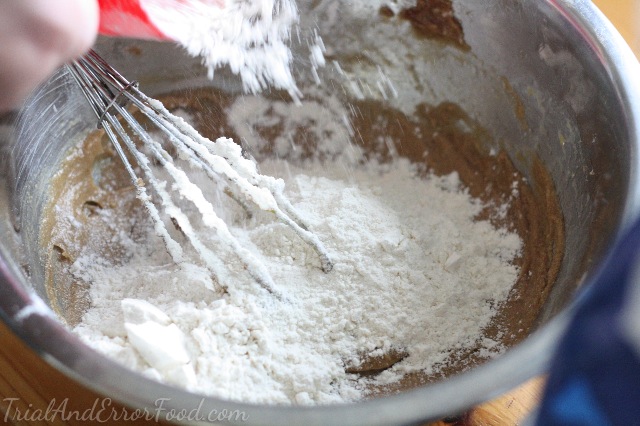 Next, slowly sift in your flour.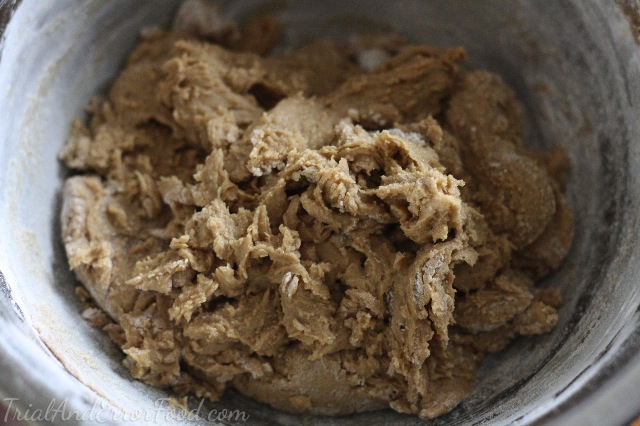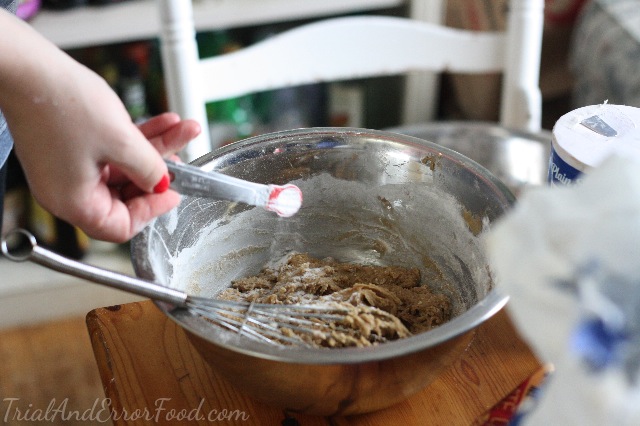 In goes the baking soda…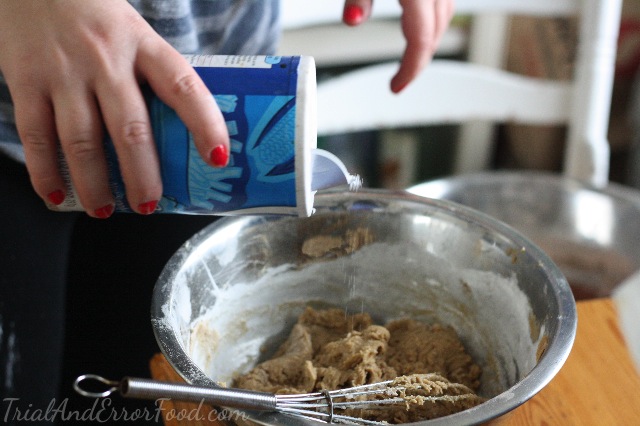 …and a drizzle or pinch or whatever you like of salt.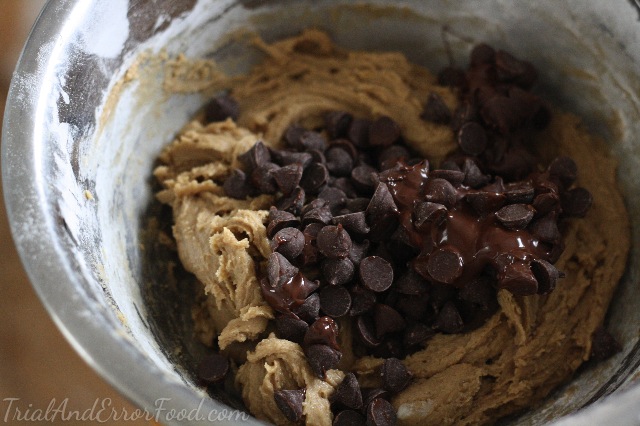 Annnnnd the chocolate chips. They got a little melty. It was amazing. You can't tell in the picture below, but the melty ones just swirled chocolate into the rest of the dough. It was the greatest surprise ever.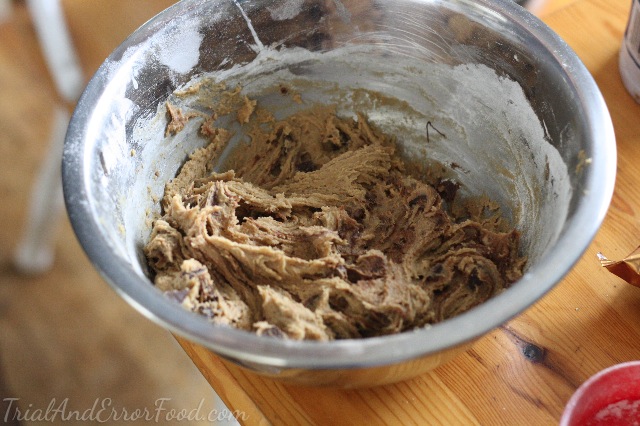 And there you have it! Now let's combine the two into one baked goods to rule all other baked goods.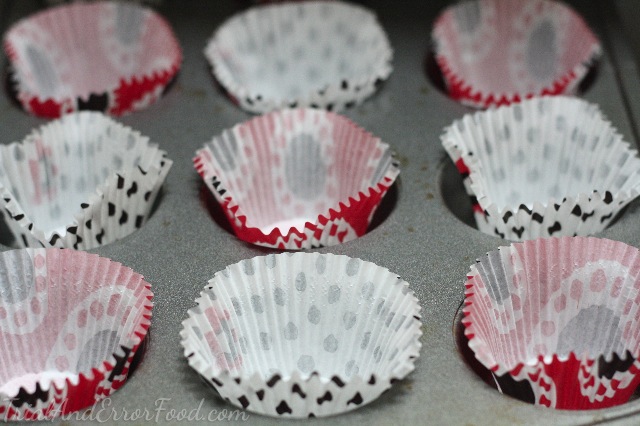 Line yer cupcake pan.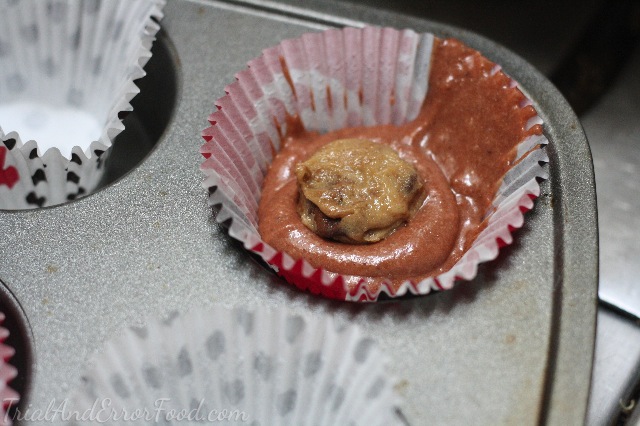 Add a heafty tablespoon or so of the red velvet batter to the bottom of the liner. Then roll a bit of cookie dough in your hands and plop it right into the middle of that red velvet batter.
And cover.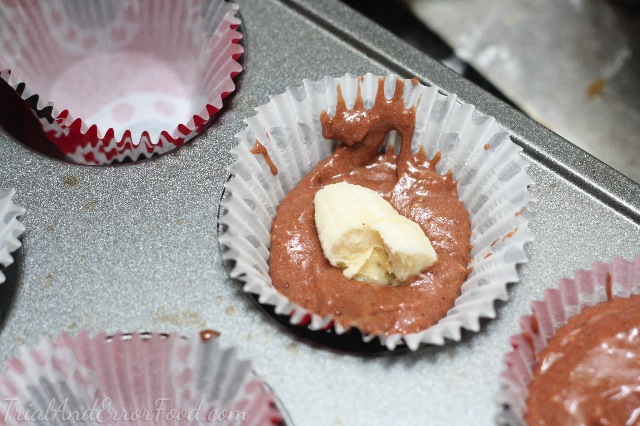 In a cheat day freedom craze, Kat and I began looking around the kitchen for other things to fill cupcakes with.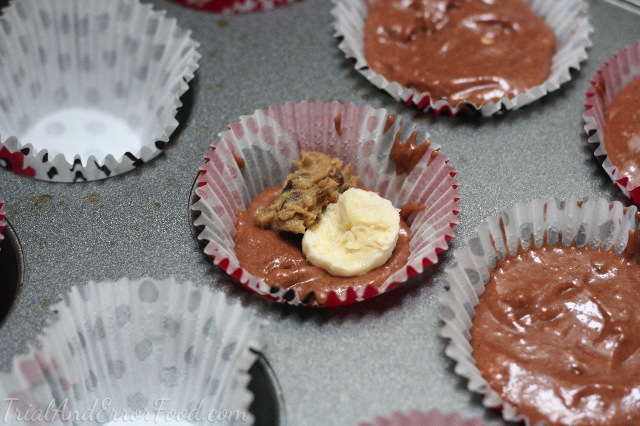 And then we got a little crafty-er. That's right. And it was DELICIOUS.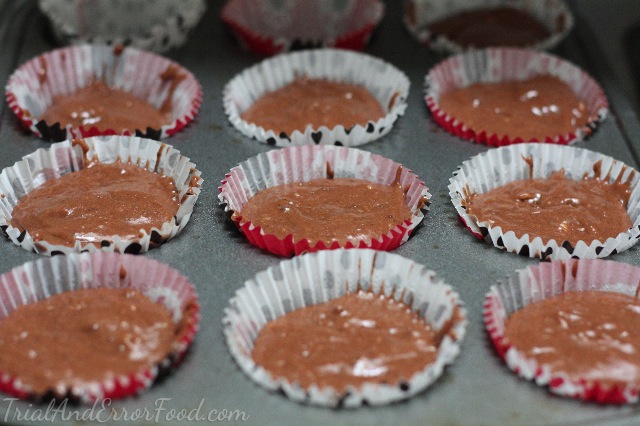 Cover up all your creations with the red velvet batter and set in a 350 degree f oven.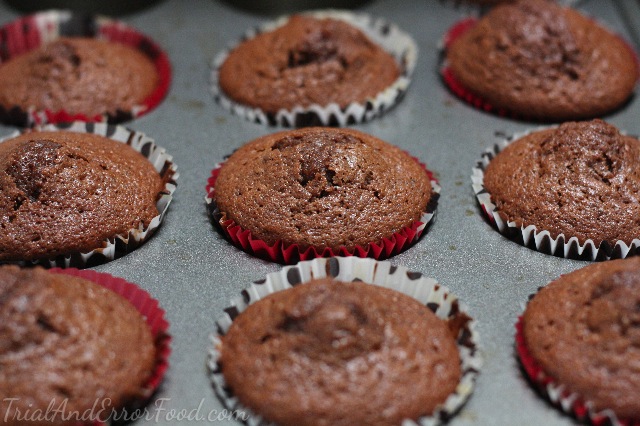 And about 18 minutes later- BAM. Out come these lovelies.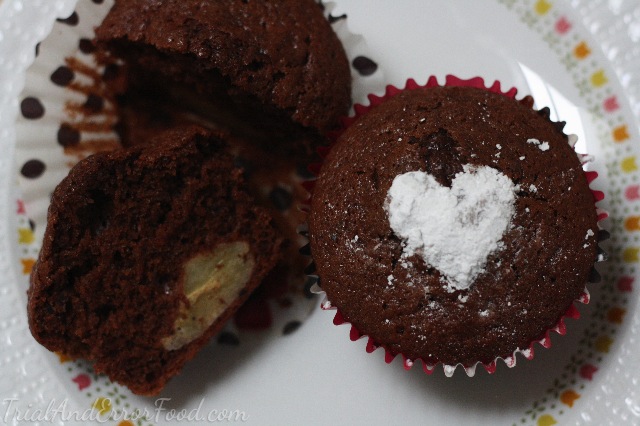 And since we essentially stuffed cookies into cupcakes, I felt adding icing might be a touch overboard. Instead we did these little hearts with powdered sugar over the tops. And then proceeded to eat them. Hope you enjoy them like we did!
Photo credit Kat Martin
Red Velvet Cupcake Recipe
Adapted from
here.
1 cup + 1 tbsp flour
1/4 cup unsweetened cocoa powder
1/2 teaspoon baking soda
1/4 teaspoon salt
1/2 cup softened butter
1 cup + 1 tbsp sugar
2 eggs
1/2 cup greek yogurt
1/4 cup buttermilk (or milk a squeeze of lemon juice)
red food coloring to desired coloring
2 teaspoons Pure Vanilla Extract
1. Preheat oven to 350 degrees F.
2. In a medium bowl combine flour, cocoa powder, baking soda, and salt. Set aside.
3. In another medium-ish bowl beat the sugar and butter together. Add eggs one at a time and fully combine. Now add yer yogurt, buttermilk (or milk/lemon), food coloring and finally vanilla and combine.
4. In a lined cupcake pan, add about a tablespoon or so of red velvet batter. Using your hands, roll a small ball of chocolate chip cookie dough and place it in the cupcake liner, resting it on top of the red velvet batter.
5. Spoon another tablespoon or so over the cookie dough so it covers the cookie dough making sure to not fill the liner all the way to the top.
6. Bake for 15-20 minutes.
Chocolate Chip Cookie Recipe
Adapted from
here.
1/2 cup softened butter
3/4 cup brown sugar
1 large egg
1/2 teaspoon vanilla
1/2-3/4 cup all-purpose flour
1/2 teaspoon baking soda
a generous pinch of salt
1 cup or so of chocolate chips
1. Beat butter and brown sugar together until it's nice and creamy.
2. Beat in the vanilla and egg.
3. Slowly add in flour. Once incorporated, add baking soda, salt and finally chocolate chips.
4. Add into your red velvet cupcakes.