Oh the glorious cup-pie.
How often do you think about potential future desserts and have a hard time choosing? Do you want a cupcake? Do you want a pie? Do you want them to be combined into one super-dessert?
I'll go ahead and answer for you. It's the last one. A cup-pie is a mini pie baked in a cupcake tin. Delicious and adorable.
And not only is it delicious and adorable! I also made it festive! Hooray.
This recipe definitely takes some love and patience (i.e. it's a total pain in the ass), but at the end you will be left with glorious cup-pies (a concept from one of my favorite shows 'Pushing Daisies'- seriously one of the best shows ever that was sadly cut short) made from gingerbread and filled with a fresh and light pumpkin spice mousse.
Can't go wrong, I promise.
*Sidenote- fun fact about today! It's national cupcake day! BEST DAY EVER after national Nutella day, which takes the lead in my book. You should celebrate by making some of these cup pies! Do it do it do it.
Let's get our cup-pie on.
Make sure to click on the orange drop down boxes at the end of the post for the recipes!

You'll need flour, ginger, salt, allspice, cinnamon, baking powder, brown sugar, powdered sugar, molasses, water, butter, heavy whipping cream, canned pumpkin and vanilla.
Also, if you have a Snuggles, grab one of those. It will make the cooking process both charming and stressful. Snuggles has discovered the Christmas tree, along with all of the ornaments. It makes for some interesting times.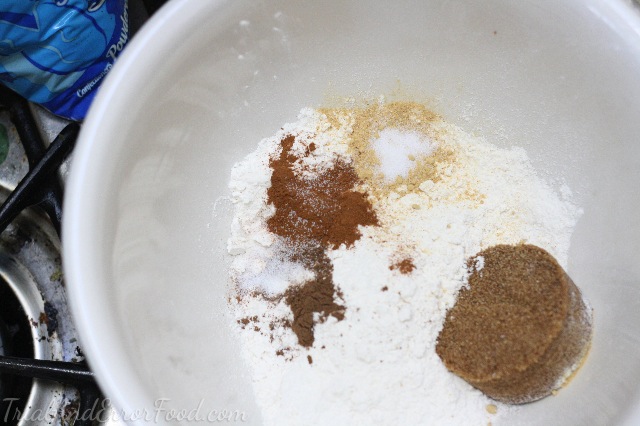 Combine all the dry ingredients in a large bowl.
Ah, the butter. Pie crust is fickle. It's best to cut in the butter by hand, slowly mixing it all in, but the thing about pie crust is that in order for it to be nice and flakey, the butter has to be cold and stay cold. That means you want your hands to be cold in order to not melt the butter while mixing it in. I always run my hand under a cold tap before I get going. It hurts, but you have to pay the pain to have the pie. And the beauty.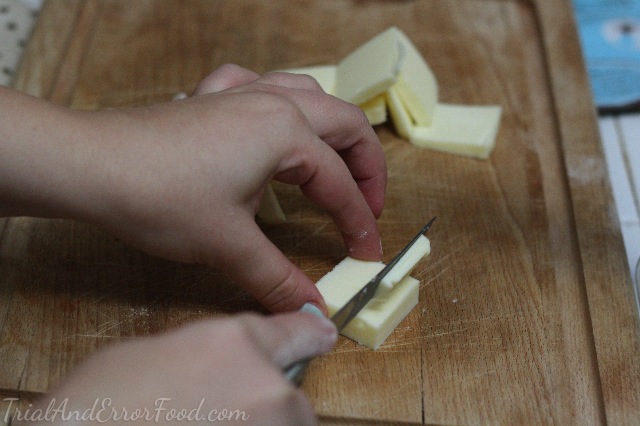 Cut the butter into small cubes, it makes it easier to mix in.
It should look like this.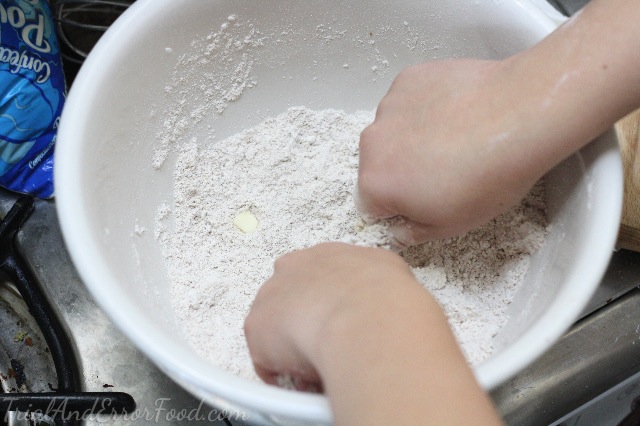 Start to mix in butter.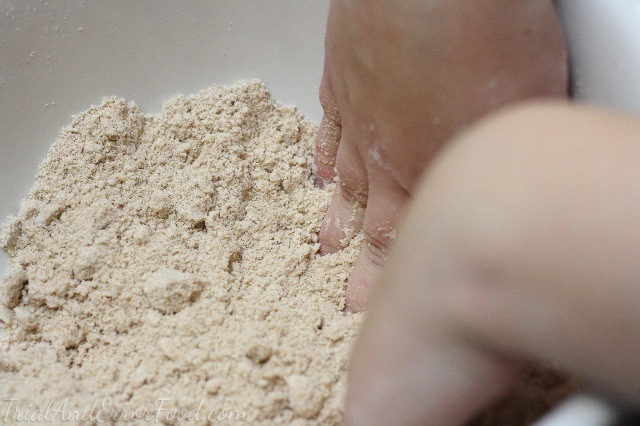 Here's about halfway through. You don't want the butter to completely blend in, or else you'd just melt the butter and pour it in. There should be tiny butter goldmines.
Here it is, about 20 minutes later. Yup, it takes a while. At the end it should look nice and crumbly.
Drizzle the cold water on top.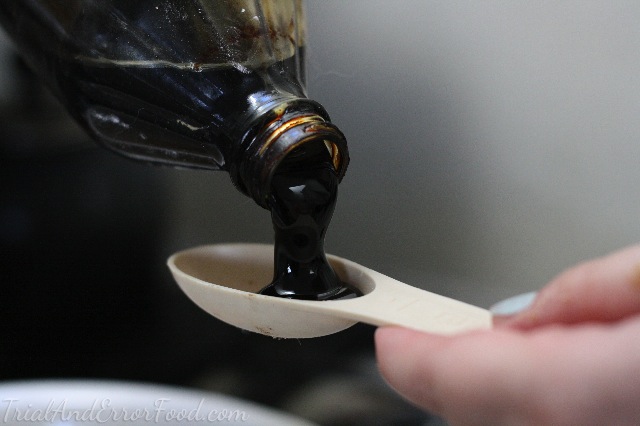 And the molasses.
Using your hands yet again, work in the water and molasses.  Begin to form into a ball.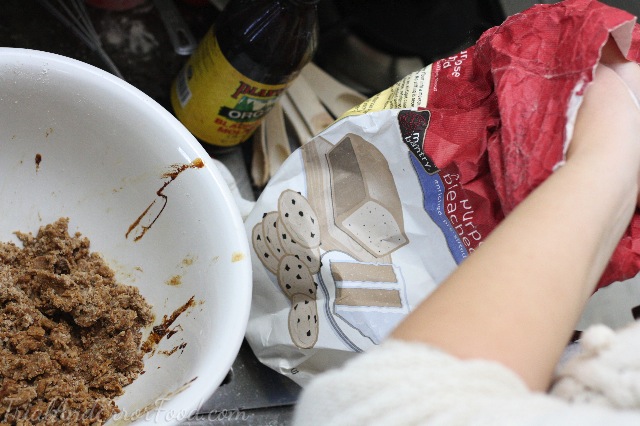 It's best if you give your hands a flour bath before hand.
Knnnneeeeeaaaaaadddd!!!!!
And it should come out looking something like this!
Throw onto a well floured surface and grab something heavy to roll it out with.
I grabbed a Tonrani bottle and got to work.
Since I was making cup pies, I didn't need to roll it out to some super pretty circular shape.
If you have a circular cookie cutter or the rim of a cup, cut out circular shapes.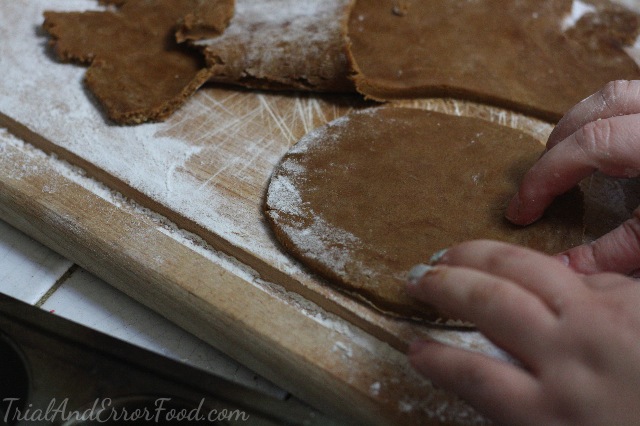 Work the dough out with your fingers, pressing the dough outward.
And in a well oiled tin, press in the dough and mold up the rim of the crust with your fingers.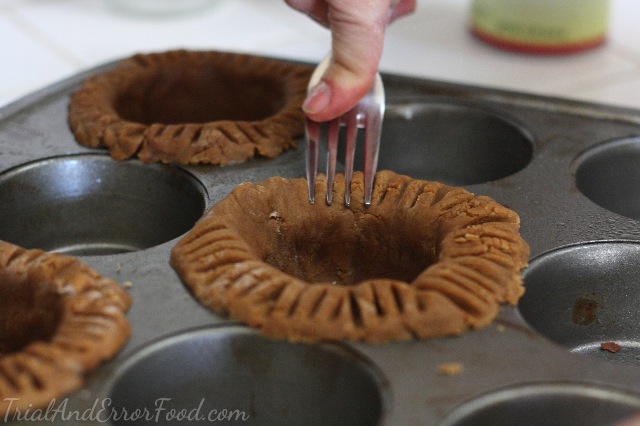 You can either keep the crust raised, or press it down with a fork. Put it in a 350 degree f oven for 8-10 minutes. Keep a close eye on them.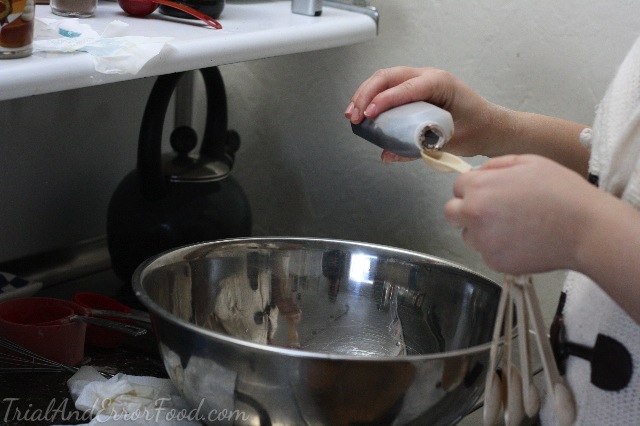 In a large bowl, add heavy whipping cream and vanilla
And whip it up! You can do it by hand or with one of those fancy contraptions. I recommend by hand, because then you're a badass.
Once you're done whipping the heavy cream, slowly add in the pumpkin about a 1/4 cup at a time.
Add in your confectioners sugar and spices and combine fully.
Transfer to a smaller bowl and let it chill for at least an hour in the refrigerator.
Once the pie shells are done baking and browned (mine are a bit too brown, but they were delicious none-the-less) pop them out of the tin.
Let them cool completely and spoon in the mousse. If the pie shells are still even just a little warm, it will melt the mousse so be patient!
Enjoy! That tea in the cup by the way- Trader Joes Holiday blend- Vanilla Cinnamon. It's my favorite tea ever, it's two dollars a box and I have about 8 boxes stored in my linen closet so I don't run out. I'm obsessive, I know.
Enjoy!
Photo CreditKat Martin
Gingerbread Pie Crust Recipe
Adapted from
this recipe.
1 1/2 cup flour
1/2 cup packed brown sugar
1 teaspoon ground ginger
1 teaspoon ground cinnamon
1/4 teaspoon ground allspice
1/2 teaspoon salt
1 teaspoon baking powder
1/2 cup chilled butter, cut into pieces
1 tablespoon molasses (unsulphured)
2 tablespoons cold water
1. Preheat oven to 350 Degrees f.
2. In a large bowl, mix together the dry ingredients.
3. Using your fingers, mix in the butter little by little. It works best if your hands are cold so you don't melt the butter. Incorporate all butter until the mixture is crumbly.
4. Add water and molasses. Mix in using fingers and form into a ball.
5. On a floured surface, roll out the crust to about a 1/4 inch thick. If making cup pies, use a circular cookie cutter or rim of a glass to cut out a circle of the crust, mold the crust into a well greased un-lined cupcake tin.
6. Using a fork, poke the sides and bottom of the crust a few times.
7. Pop it in the oven for 8-10 minutes.
8. Let cool and lift out of the tin.
9. Make sure the crusts are completely cool before spooning in the pumpkin mousse filling.
Pumpkin Spice Mousse Filling
1 pint heavy whipping cream
1 cup canned pumpkin
2 tsp vanilla
1/2 tsp allspice
1 1/2 tbsp cinnamon
3 1/2 tbsp powdered sugar
1. In a large bowl, add cold heavy whipping cream and vanilla.
2. Whip it good. Until the cream forms soft peaks.
3. In 1/4 cups measurements, slowly add the pumpkin and fully combine.
4. Add in powdered sugar and spices.
5. Transfer to a smaller bowl and let chill for at least an hour in the refrigerator.