We all have stuff to do right now. I know this. And by knowing this, I'll offer a kind present to all of you.
I will give you all brevity.
I'm not going to say much, just that this is the easiest dish that packs a punch of fresh flavors. It's also the perfect appetizer to bring along to the holiday parties I'm sure you'll all be attending.
Plus it's Christmas colors!
Happy Holidays!
Also, a little something to put you in the spirit of the holidays.
Make sure to click on the orange drop down box at the end of the post for the recipe!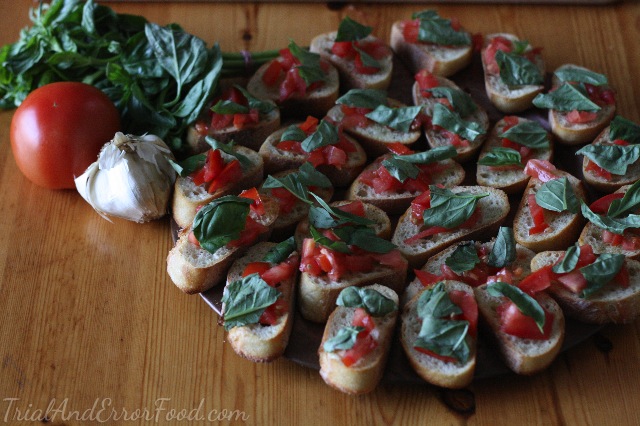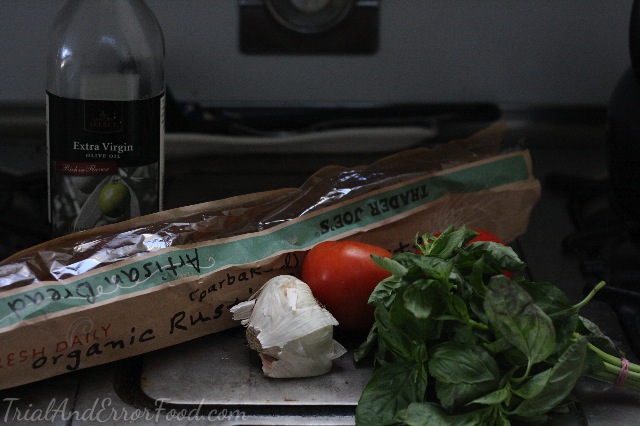 All you'll need is some olive oil, a fresh baguette, a clove of garlic, a tomato and some fresh, whole basil leaves. Super simple, right?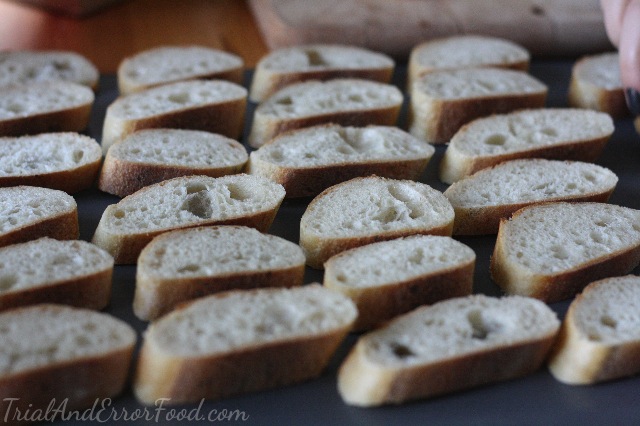 Slice and place bread on a cookie sheet.
Drizzle with a little olive oil and pop in a 350 degree f oven. Eight to ten minutes should do the trick.
Chop the garlic clove in half.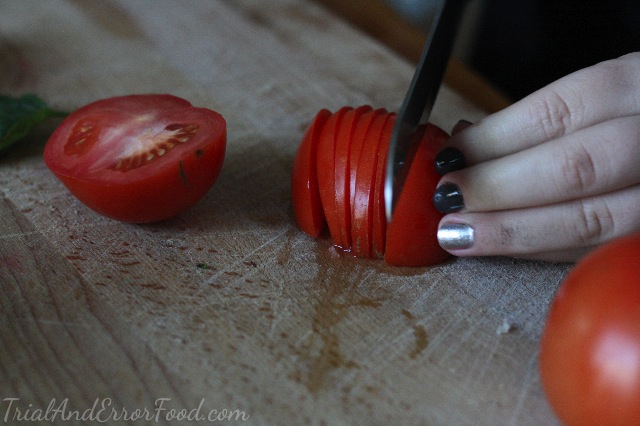 And chop your tomato!
It should look like this. I've brought these on the train to potlucks before. I just toast the bread and throw it a  tupperware container and all the chopped up veggies in another and arranged them all once I got to the party. Boom. Easy and able to travel.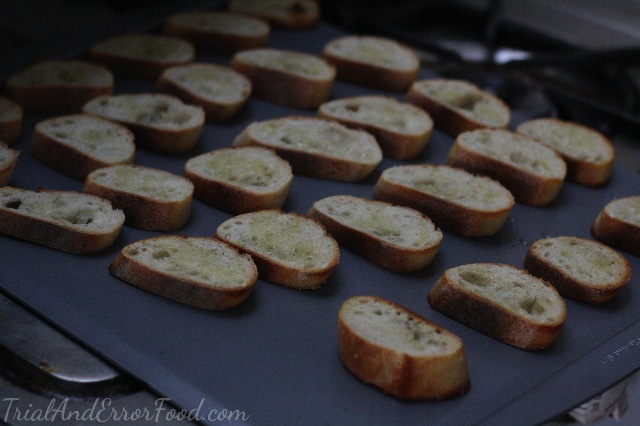 By now your bread should be nice a toasted. I like to keep 'em in the oven until just the edges have turned golden brown, I want the bread to be warm and toasted on the outside but still soft in the middle so when people bite in, it doesn't shatter and rain vegetables everywhere. Unless you're making them for people you don't like. If that's the case, leave them in for a touch longer.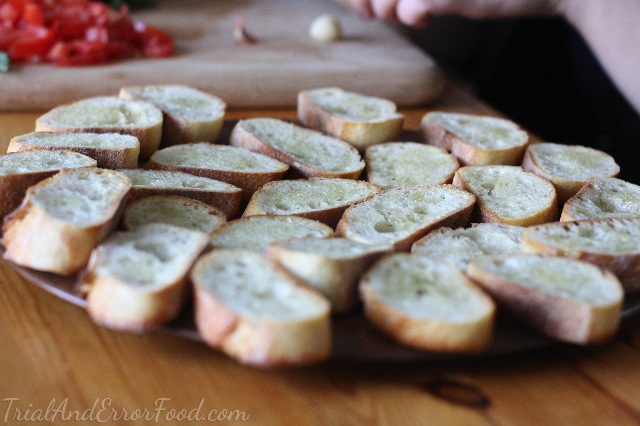 Arrange on a pretty platter.
Grab that garlic half, and rub the garlic on each piece of toasted bread.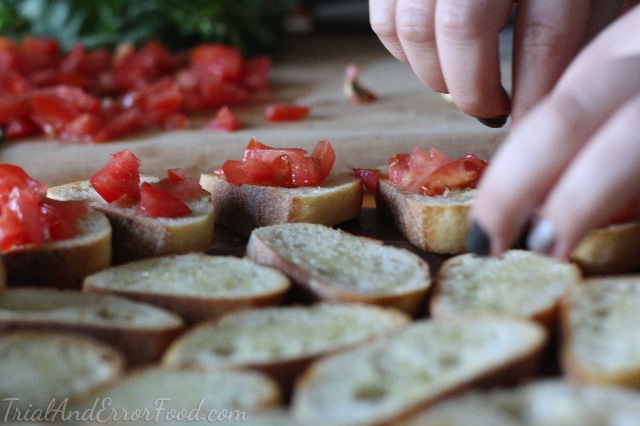 Top with a few of the tomato pieces, making sure not to over-do it.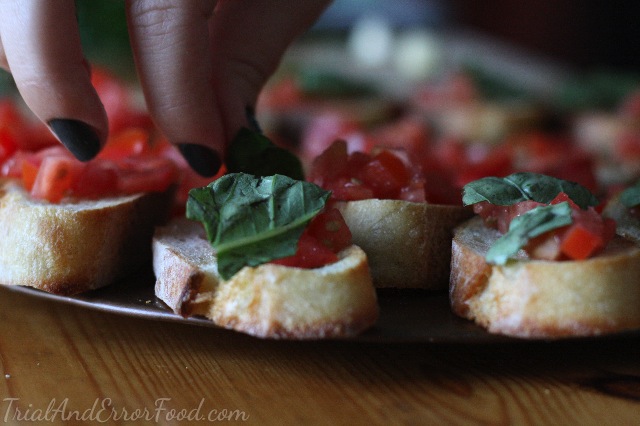 And rip up basil leaves and place a half or so on top.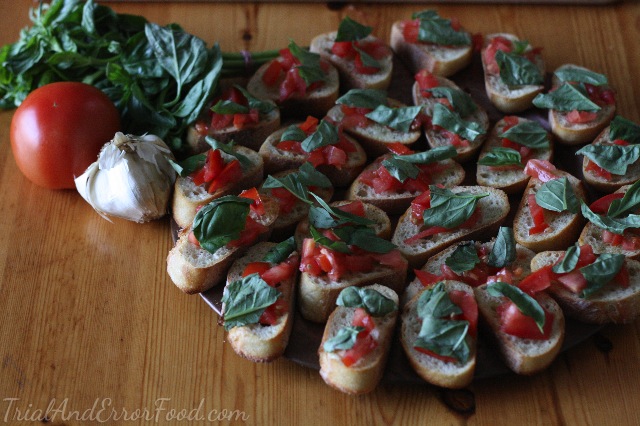 And there you have it! Happy Holidays!
Photo Credit Kat Martin
Bruschetta Recipe
1 baguette
1 large-ish tomato
1 clove of garlic
some whole basil leaves- I don't have an exact measurement, sorry!
olive oil
1. Preheat oven to 350 degrees f.
2. Slice the baguette into handy bite-sizeish pieces.
3. Drizzle with a little olive oil.
4. Pop in oven for about 8 minutes, until the edges are a little golden brown.
5. Cut garlic clove in half and chop up tomatoes.
6. Take bread out of the oven, and place it on the serving platter.
7. Rub each slice with garlic and top with tomatoes and half a basil leaf, making sure to not pile too much on each piece.
8. Enjoy!