Somewhere out there in the great wide world there is a woman named Jill Tarves.
Jill, I don't know you but I already know you're a genius and you changed my life. Jill, I'm sure you're as beautiful as you are genius. Jill, if you're reading this I hope you're not too creeped out. Hopefully just the right amount. Jill, I think I've written your name a few too many times in this post for either of us to be comfortable with.
Here's the deal, everyone else who is reading this and is probably just as creeped out as Jill, I used to be bound by what I believed were the laws of banana bread. The over-riding law of banana bread goes something like this: the riper the better. Wait and wait and wait until your bananas have turned brown and then they will be perfect for baking.
Well, I should come clean. On my long long list of vices, somewhere close to creepy, complete and utter impatience is near the top.
Then one day I was given a secret and magical tip by my housemate's boss' wife and it was one of the happiest baking breakthroughs I've ever had. And although 'baking breakthrough' is a pretty specific event, out of the few I've had, this one is a doozy. I guess you'll just have to read on to discover what it is.
Also, remember that surprise post that I published yesterday? Well now would be the perfect time to bust out that salted caramel sauce, because you're going to have some serious drizzling to do.
Let's get to it.
Make sure to click on the orange drop down box at the end of the post for the recipe!
So here's what you need; flour, sugar, salt, baking soda, butter, eggs, bananas and vanilla extract.  See how the bananas aren't brown and over ripe like you usually have them for banana bread?  It's because I have a secret and I'm about to share it with you.  Well, in a few steps at least.
Halve your bananas.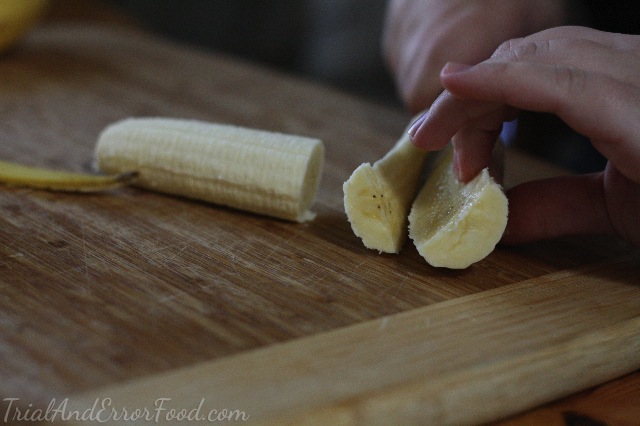 And again lengthwise.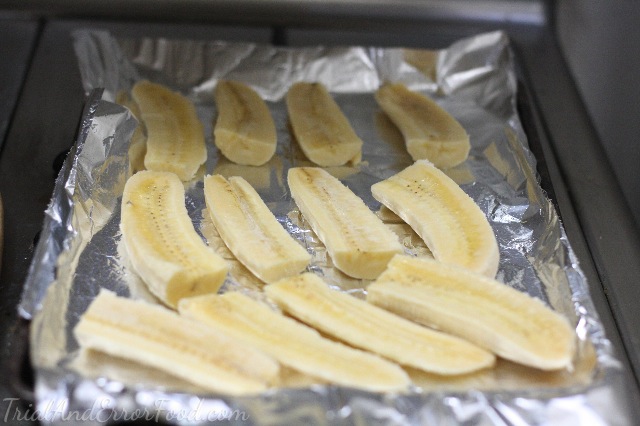 Lay 'em on a baking sheet, preferably covered in foil.  That's right people, my housemate came home one day explaining that her boss' wife suggested popping them in the oven instead of waiting for them to ripen.  So simple yet so genius.  Once that door was opened for me, I decided to take it one step further.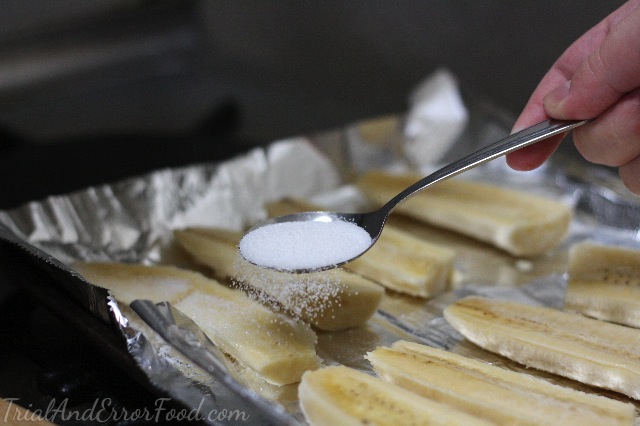 And caramelize them.  I couldn't help stop myself.  So, using a spoon, sprinkle sugar over each banana quarter.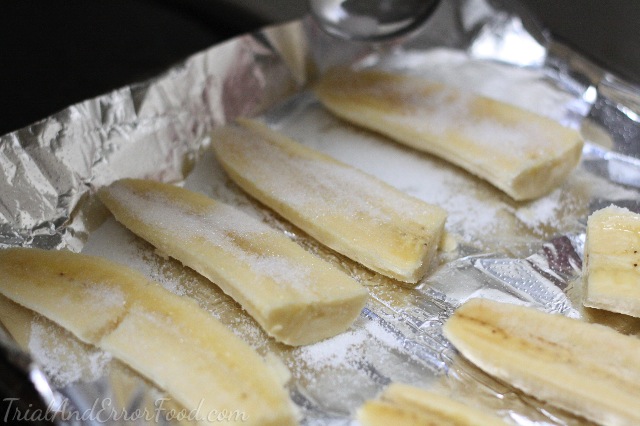 Why wait for bananas to brown when you can coat them with sugar and caramelize and roast them in the oven instead?  This is the best banana bread ever, I kid you not.
And stick 'em in the broiler, keeping an eye on them until the sugar caramelizes on top.
In a medium bowl, plop down your stick of softened butter.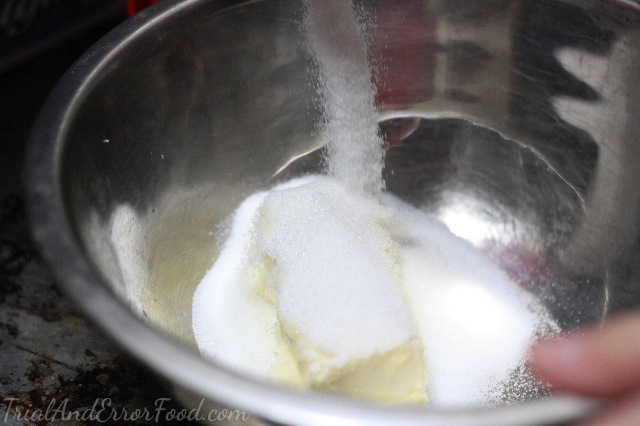 Mix in the sugar.
Blend with a wooden spoon or whatever handy utensil you have at your disposal until the sugar is incorporated and the butter is creamy.
YUP
Add in your eggs.  Around this step, I could smell the sugar caramelizing and knew it was about time to pull the bananas out of the broiler.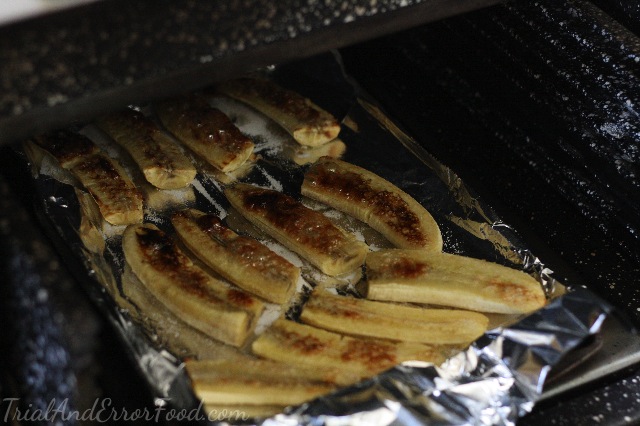 Oh man.  That's about all of my vocabulary I can use to describe this.  Oh man.
Oh man.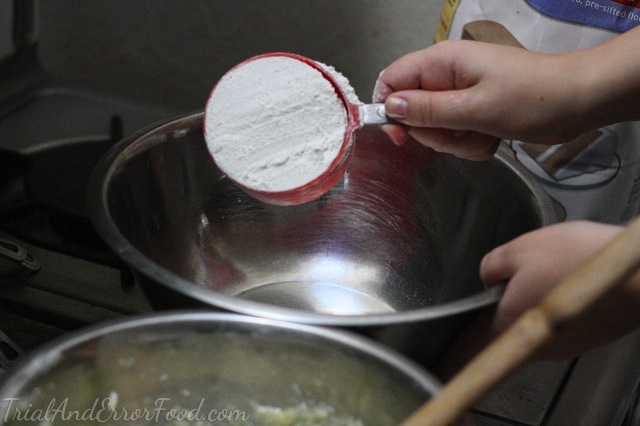 Huh?  Cooking?  What?  Oh, that's right.  In a larger bowl, we mix our dry ingredients.  Flour.
Baking powder.  I didn't know baking powder could look pensive until I saw this picture.  Nice work, Kat.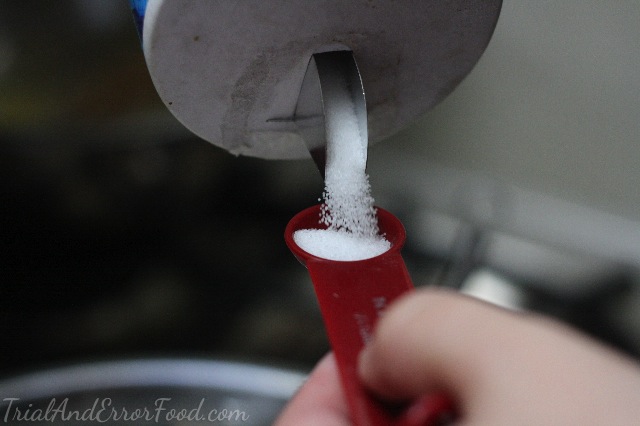 And salt.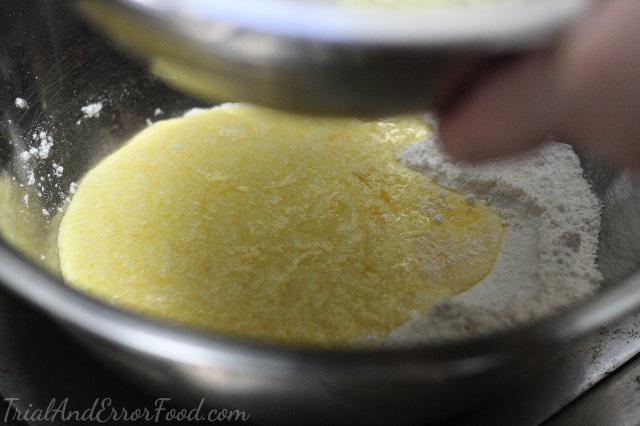 Once the dry ingredients are successfully combined and introduced to one another, add in your butter/sugar/egg.
And mix together.
In a separate bowl (I just used the one that had the butter/sugar/egg.  Don't judge me, they're all going to the same place anyway!) get yer bananas ready for mashing.
Look what I found!  A bonafide potato masher!  I've never used one before, and lemme tell you- it was great.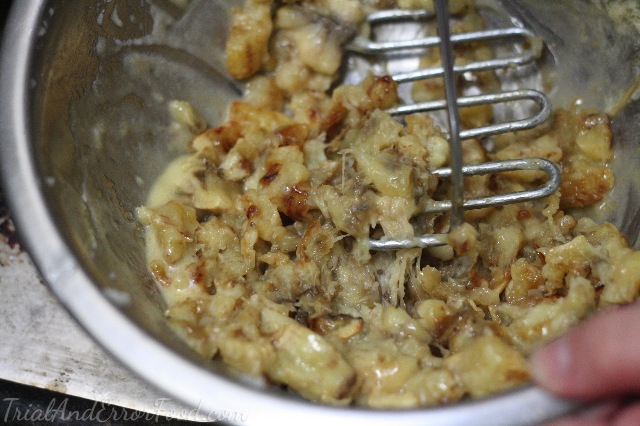 Mash up the delicious looking bananas until you get something that looks utterly disgusting.  Something like the picture above.
Fold in the mashed bananas to the rest of the batter.  I can tell you one thing for sure, it continues to look pretty disgusting up until the point when you pull it out of the oven.  I don't know what to say, it's just one of those dishes.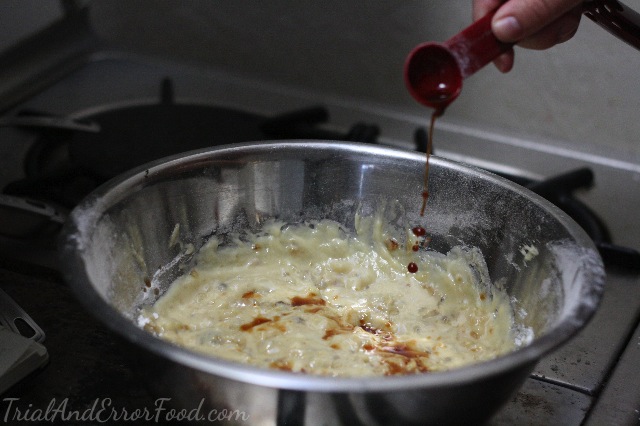 Last but not least, add in your vanilla.
And combine it to the rest of the gooey mess.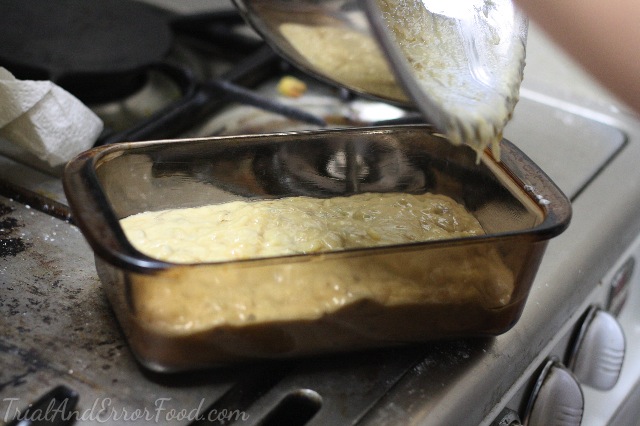 Pour the batter into a bread dish, muffin tin, brownie pan- whatever you have will work great I'm sure.
And pop it in a 350 F degree oven for about 40 minutes.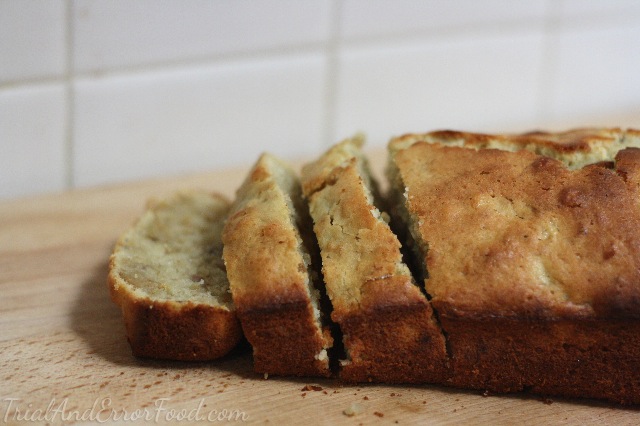 And when you pull it out you'll have pure heaven.  That's right.  Pure.  Heaven.  I can't describe what caramelizing the bananas does to this.  I've made banana bread a ton of times, waiting forever for the bananas to go brown, but once I learned of this trick I never went back.  It's so beyond incredible.
And remember that salted caramel sauce we made yesterday?  Well get ready to bust it out for some drizzling action.  And some dunking action. Seriously.  The salty sweet caramel rounds out this banana bread absolutely perfectly.  Roasted caramelized banana bread drizzled with a homemade salted caramel sauce.  It does not get better than this.
Photo Credit Kat Martin
Caramelized Banana Bread
1 stick butter (softened)
2/3 cup sugar + a little more for sprinkling on bananas
2 large eggs
1 cup flour
1 tsp baking powder
1/2 tsp salt
3 large bananas
1 tsp vanilla extract
salted caramel sauce
for drizzling (optional)
1. Set broiler to high.
2. Cut bananas in half, and cut each half in half again lengthwise.
3. On a covered baking sheet, using a spoon, sprinkle sugar over each banana quarter.
4. Broil until the sugar has caramelized.
5. Once bananas are removed, pre-heat oven to 350 F degrees.
6. In a medium bowl, combine butter and sugar, mix until the butter is creamy.
7. Add in one egg at a time, combining fully.
8. In a larger bowl, combine flour, baking powder and salt.
9. Add in butter/sugar/egg to the dry ingredients.
10. Mash up bananas and fold them into the batter.
11. Add vanilla.
12. Pour batter in a greased bread pan (or whatever you have) and bake for 40 minutes, or until a toothpick comes out clean.
13. Slice up and pour warmed salted caramel sauce over each slice. Enjoy!