Welcome to the galette.
It's an incredible dish with identity issues.  It doesn't know if it's a pie, a tart or a pizza.  Thank god it's pretty.
I've mainly experienced sweet galettes, with a pie crust edge and thinly sliced fruit for the filling- typically apples or pears.  It's a beautiful, rustic dish, but as y'all know I can't just settle for a run of the mill recipe or concept.  I like to change things up a little, so that's what I did.
I decided to use a focaccia dough, since it's such an easy and deliciously savory bread and I decided fill it up with tomatoes and yams, which are perfect for roasting.  This dish is the epitome of autumn.
It's a fairly easy process, although the focaccia takes a while to rise, but it's so worth it.  Let's get to it!
Make sure to click on the orange drop down box at the end of the post for the recipe!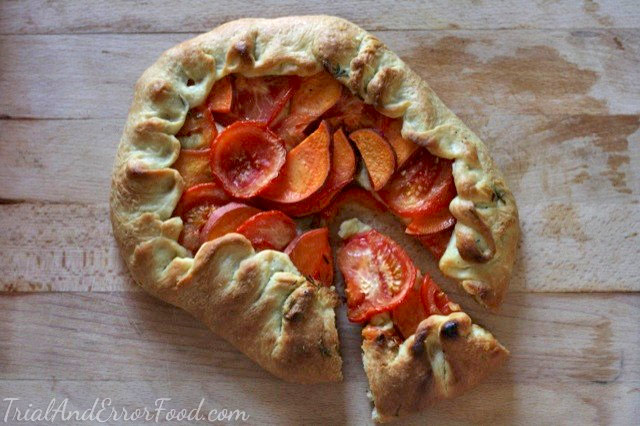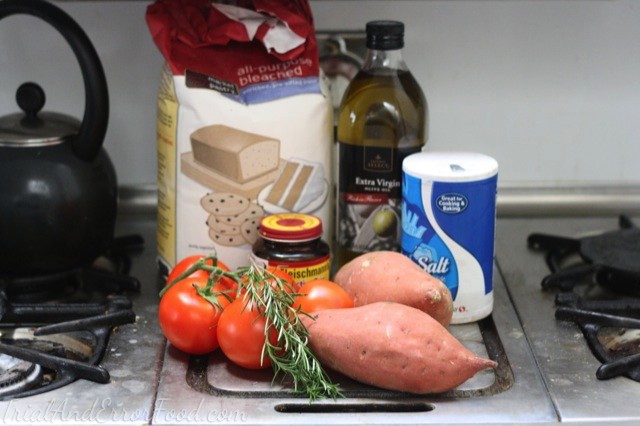 Here's all you need!  Pretty basic stuff, right?  All purpose flour, olive oil, salt, dry active yeast, yams, tomatoes, and rosemary.
Slice the sweet potatoes very thin, and then in half.  Throw in a bowl, coat with a little olive oil, toss it with some salt and set aside.
Slice the tomatoes, but leave the slices whole.  Layer the tomato slices over paper towels to soak up any extra moisture.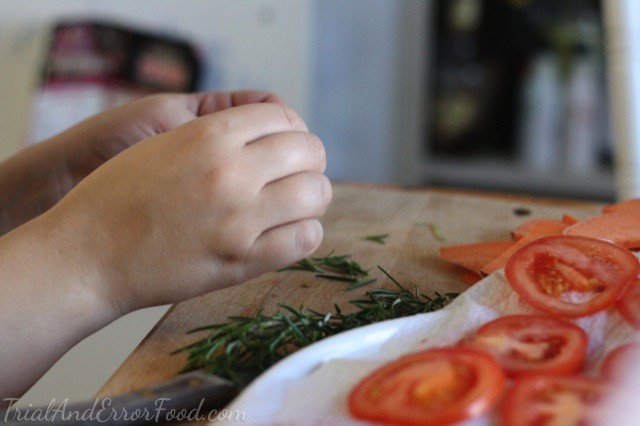 And de-sprig (totally not an official cooking term) and mince up your rosemary.
In a bowl (by all means, you can use a smaller bowl, I have no idea why I used such a beast), sprinkle the dry active yeast over warm water and let it work its magic for a few minutes.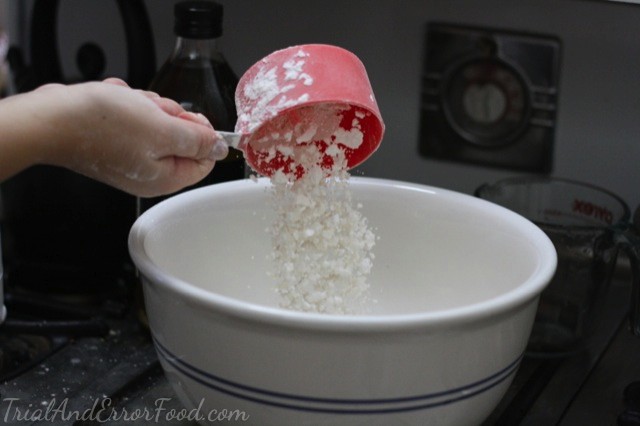 In a bigger bowl combine flour and salt.  And I know my hand looks weird. It was for the sake of the picture. If my hand was in the way you wouldn't know how to add in the flour and then you'd be completely lost right?? So I guess I should really be saying "you're welcome".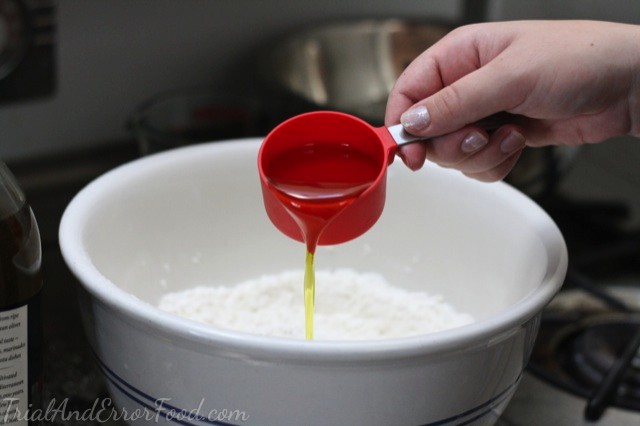 Drizzle in the olive oil.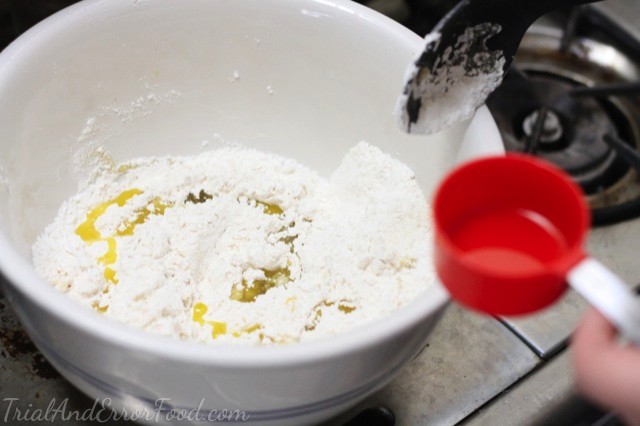 Pretty right?  This whole recipe is pretty.  When you mix in the flour and then add in the yeast/water, you're going to find that there are little clumps of olive oil that didn't break up completely.  This is just fine.  In my mind, I feel like they create little delicious olive oil minefields that explode when baked.  It's good, I swear.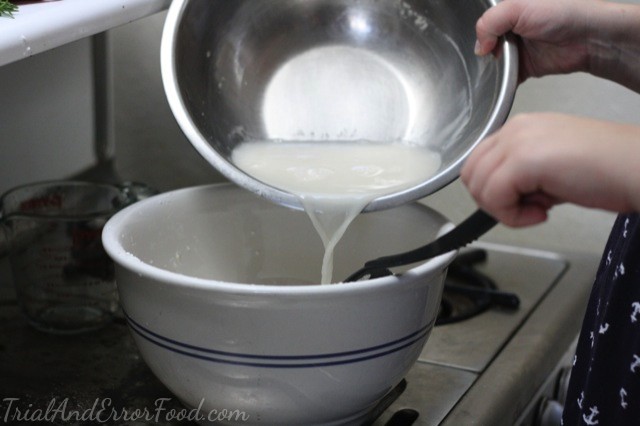 Add in yeast/water mixture.  I'm sure this would be an easier, quicker process in a stand mixer, but it's such a beautiful rustic dish, I love getting my hands all doughy and kneading through on my own.
Although kneading by hand is certainly less pretty than a stand mixer, I just prefer it.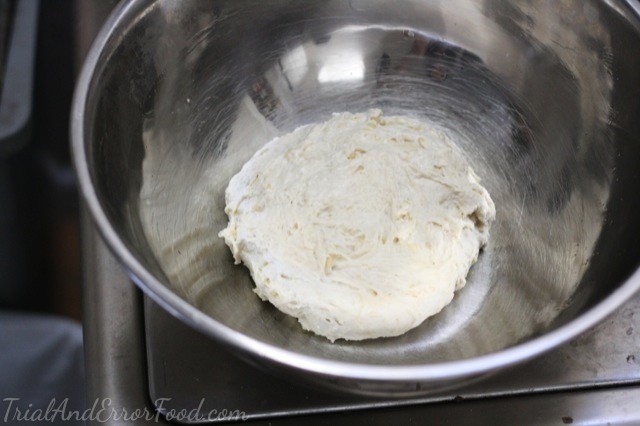 Once everything is combined, form into a ball (it's a sticky dough by nature) and place in a clean, well oiled bowl, cover and let rise in a warm place for about an hour or so.
Kat and I decided a good use of our waiting time was to pour a couple strawberry/peach bellinis and watch Disney movies.  I couldn't recommend that more.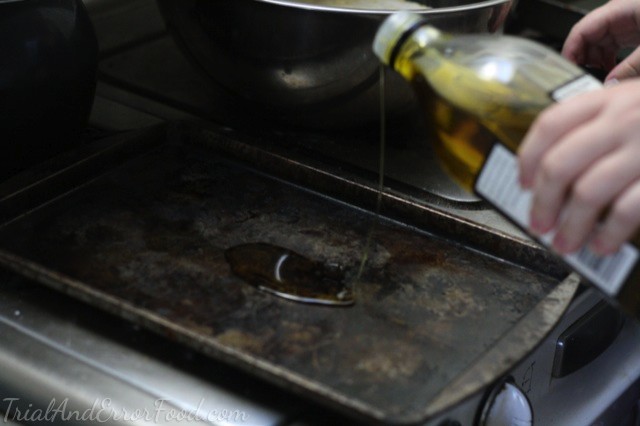 Once dough has risen, oil two baking sheets.
Halve the dough.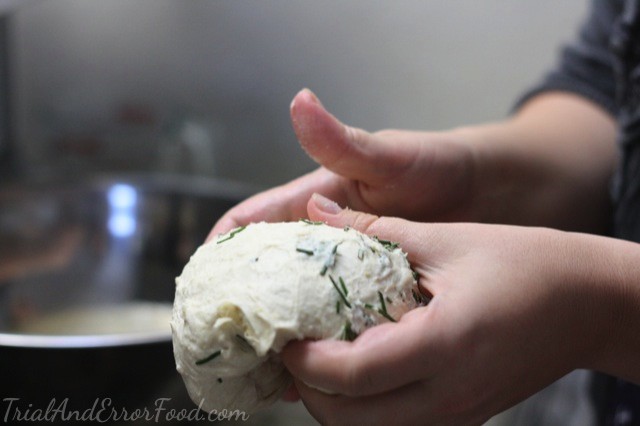 If you want to add in rosemary, here's where you do that.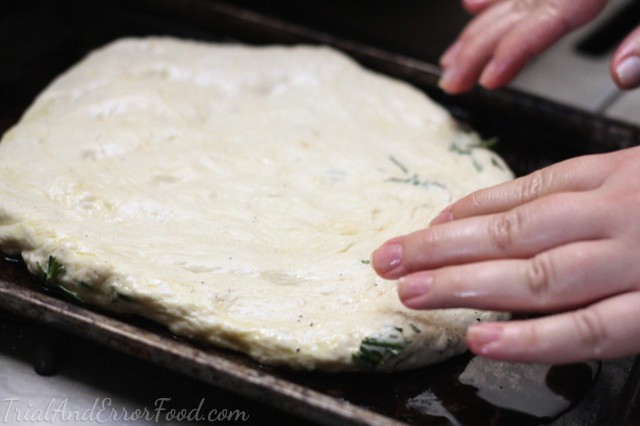 And spread both halves out on their own baking sheet, making sure they're in a circular-ish shape.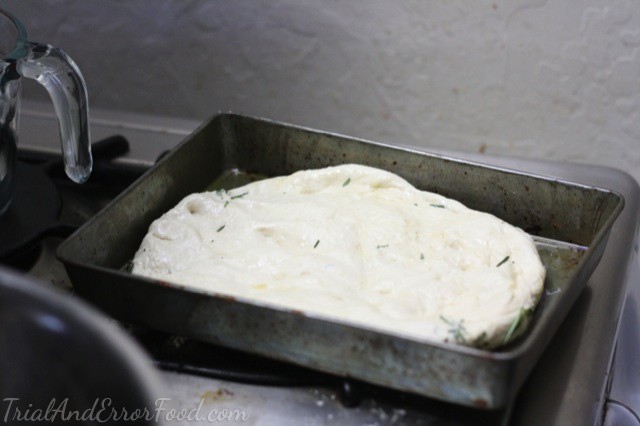 I decided that I was only going to do one galette, and I wanted to make the other half into a loaf of just focaccia.  You'll have enough veggies to make two galettes if you choose, but if you want to bake up a loaf of just focaccia, I recommend throwing the rest of the yams in the oven after you've taken your bread and galette out for a batch of roasted yam chips (they were sooooo good).
Cover both loaves with plastic and let rise for another hour or so.  Finish up whichever Disney movie you're watching.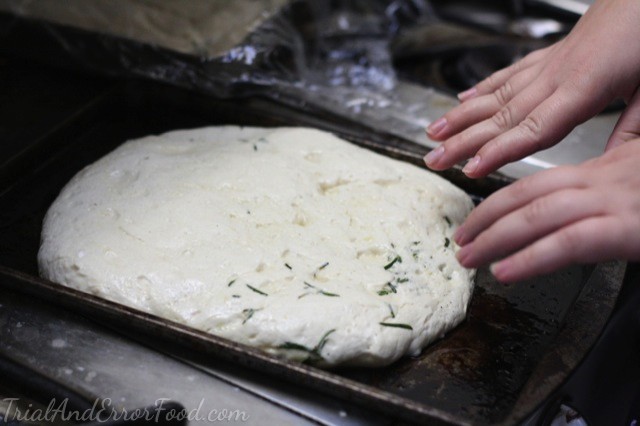 I look like I'm trying to perform magic on the focaccia.  ANYWAY, it should look something along the lines of this.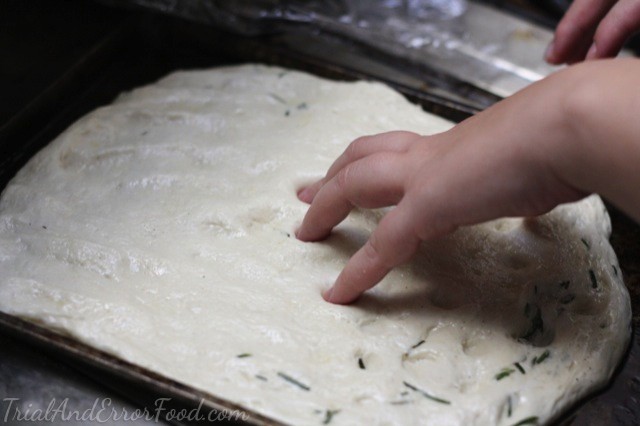 Using the tips of your fingers, create indents over the entire loaf.
You can't really see the indents until…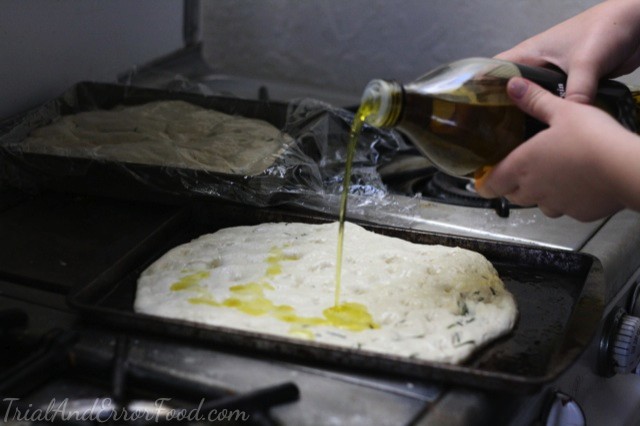 We pour the elixir of the gods (olive oil) over the entire loaf.
Ah, look at the pretty olive oil/focaccia tide pools.  A thing of beauty.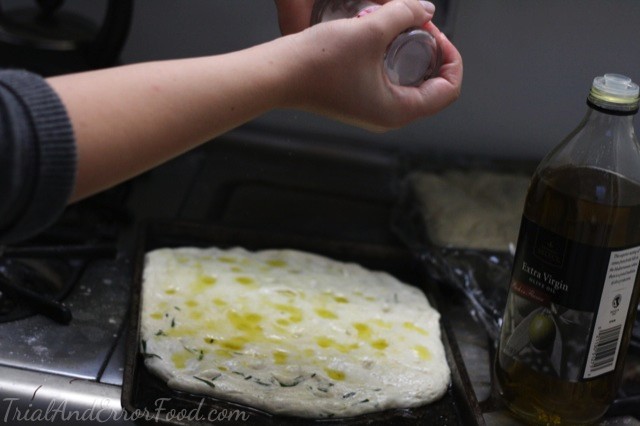 Crack some salt over the top- I used sea salt, kosher would also be wonderful.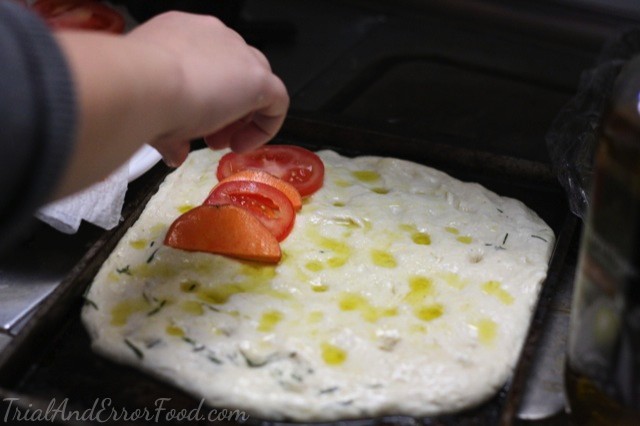 And begin laying your veggies.  Leaving about an inch or so around the edge, lay your veggies, alternating between the tomatoes and the yams.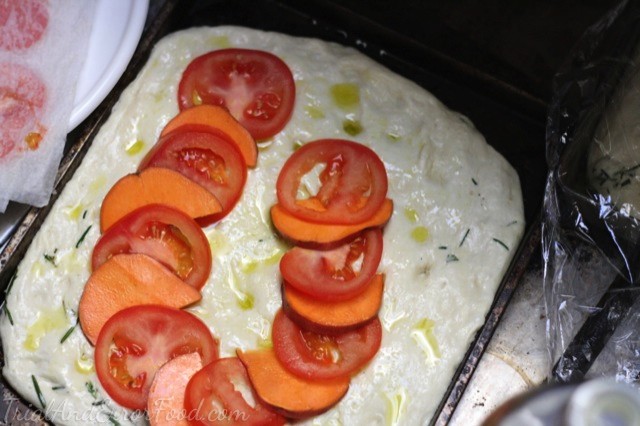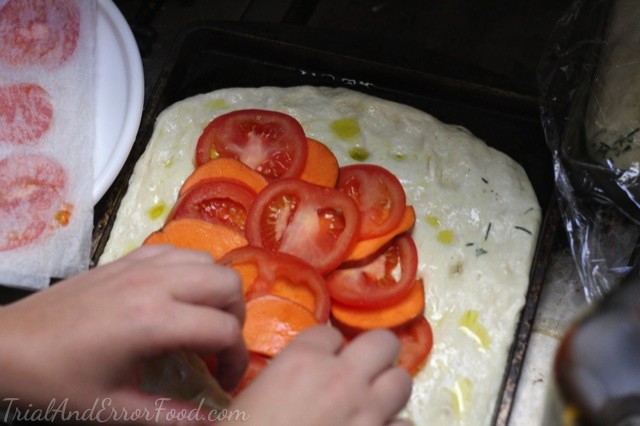 Make sure the entire center is covered in the vegetables.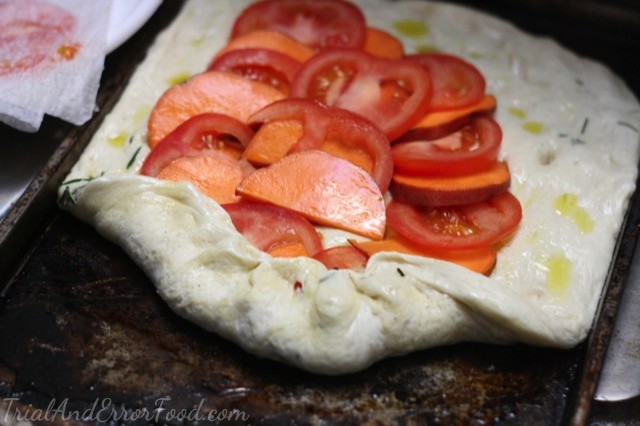 Once all the vegetables are placed, fold the edge of the dough over, covering some of the vegetables, but leaving the center open.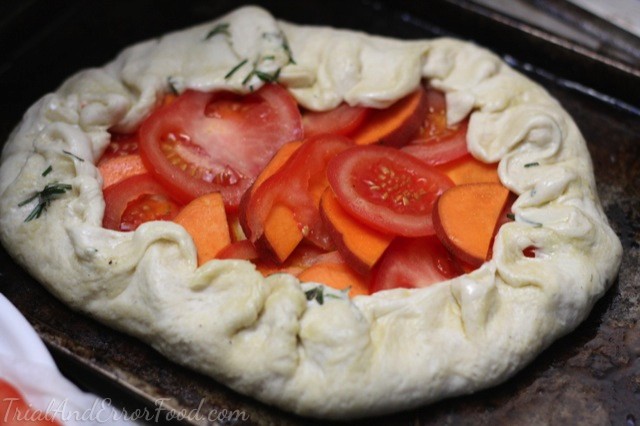 Brush or pat some olive oil on the edge (you could probably guess I don't own one of those fancy brushes so I just drizzled it over the edge and used my hands to spread it around).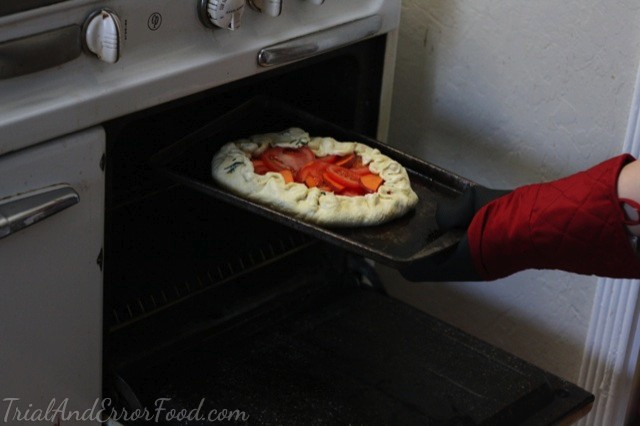 And pop it in a 400 degree F oven.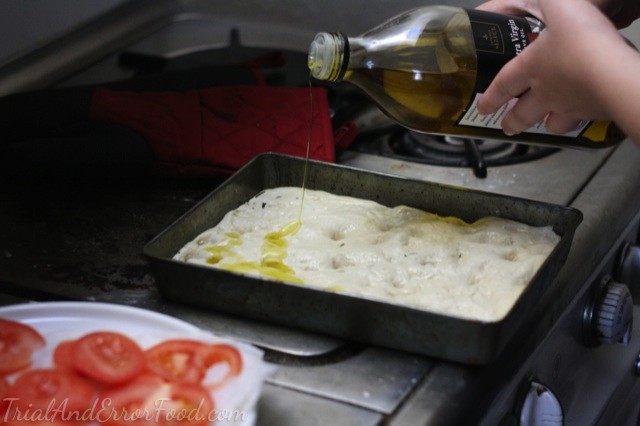 Repeat with the other.  If you're just doing a plain focaccia loaf, indent with finger tips, drizzle with olive oil and sprinkle with salt.  Pop it in the same oven.
Bake for about 30-40 minutes until the edges turn golden brown and the veggies are roasted.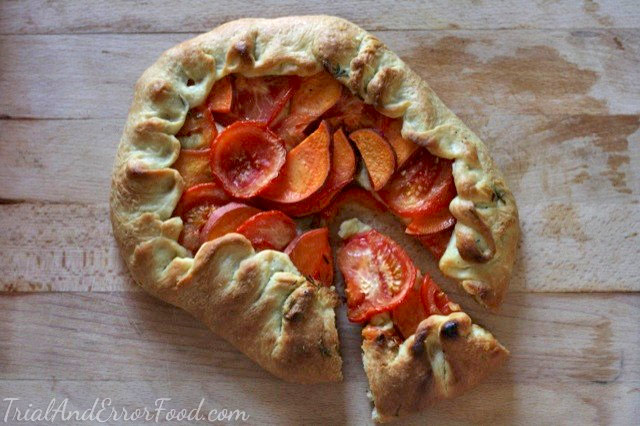 Slice up and enjoy
Photo Credit Kat Martin
Tomato and Yam Focaccia Galette Recipe
Dough adapted from
this recipe.
1 1/2 teaspoons active dry yeast
1 1/2 cups warm water
1 teaspoon salt
1/3 cup olive oil + more for drizzling
1-2 tomatoes
1 large yam
a couple sprigs of rosemary
kosher or sea salt for sprinkling
1. Thinly slice tomatoes (place on and cover with a paper towel to absorb extra moisture) and yams, mince rosemary.
2. In a bowl, toss yams in olive oil and salt, set aside.
3. In a small bowl sprinkle yeast over warm water and let sit for a few minutes.
4. In a large bowl combine flour and salt, slowly add in olive oil and combine.
5. Once combined, add water/yeast mixture, kneading with hands.
6. Form into a ball (it will be sticky), place in a clean, well oiled bowl, cover and let rise for about an hour.
7. Once risen, divide dough in half, knead in rosemary and place on two separate, well oiled baking sheets in the shape of a circle.
8. Cover and let rise in a warm place for another hour.
9. After an hour or so preheat the oven to 400 degrees F, uncover and make indents in the dough with finger tips.
10. Drizzle with olive oil and sprinkle with salt.
11. Leaving an inch or so around the edges, lay tomatoes and yams in the middle of the dough circles.
12. Fold the edge of the dough over the veggies, covering them slightly, but making sure the leave the majority of the center open.
13. Pat the edge of the dough with a little more olive oil and bake for 30-40 minutes, until the edges of the dough are golden brown.