Sometimes I choose to cook things based solely on how fancy they sound.
I guess I should expand.
Summer is over in San Francisco.  Here, we have two seasons.  Two. Sunny and warm or cold and foggy and/or rainy.  That's all we got.  No pretty leaf changing, no light spring breezes, just the warm or the cold.
Remember last week's post in which I talk about how it was sooooo hot and the only cure was more barbecue? Right, well last week is over and as I stare out my window all that greets me are gray skies and rain. You had a good run, summer.  It was a solid two weeks and I will miss thee.  In the meantime, I think some cold weather food is in order to help us pass the time.
And to be fair, winter is the keeper of my favorite dishes. It's the season for rich, hot foods and what better way to kick it off than a risotto? I love risotto because it's made with a few simple ingredients that combine to make the perfect cold-weather meal. Also I feel fancy whenever I make it- it's just one of those dishes.
Might as well stuff it in a pepper and bake it, right?! Right!
Then you can feel SUPER fancy.
Make sure to click on the orange drop down box at the end of the post for the recipe!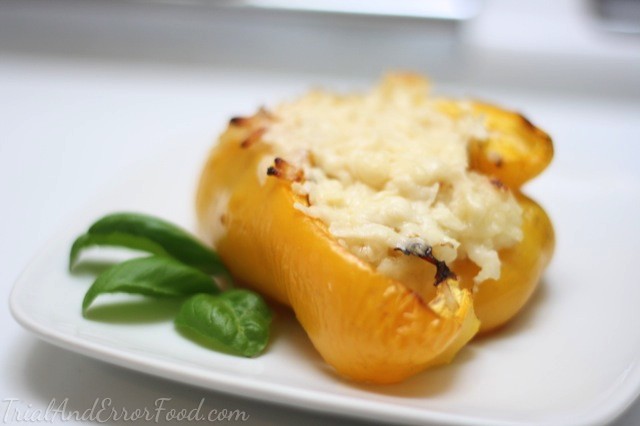 Let's do this, party people.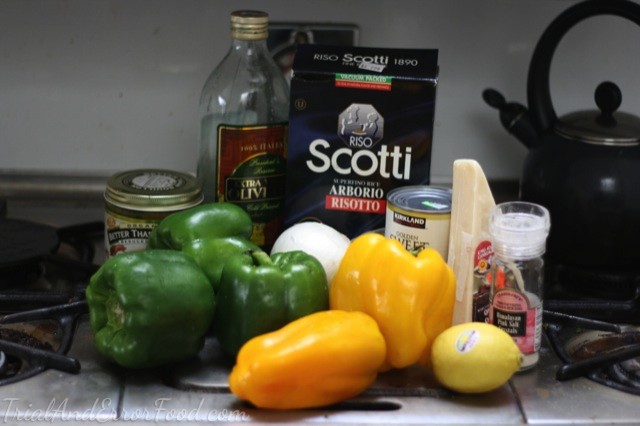 Basic stuff, right?  Here we have Arborio rice, a white onion (white or yellow work best for this dish), peppers (you'll only need three), canned corn, chicken stock (I used bouillon paste, which I'm convinced is made of pure magic), pecorino cheese (parmesan works just as well), olive oil, a little salt and a lemon.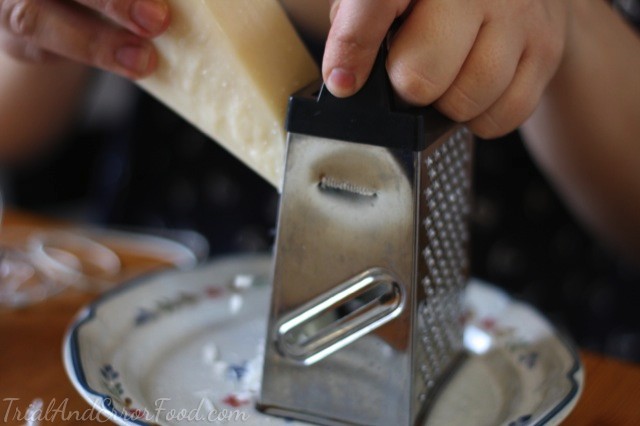 Preheat your oven to 375 degrees F and get ready to grate!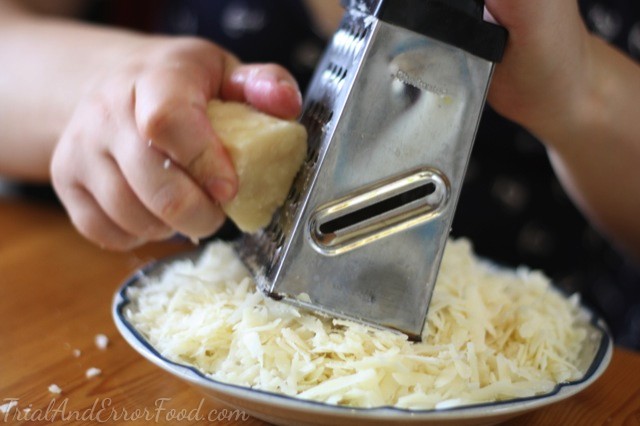 Grate your cheese until you have an entire delicious cheese mountain.  Set aside.
Combine chicken stock and water.  I just made this recipe again using white wine instead of water and if you have it- I highly recommend it.  So so so good, especially with the lemon and the cheese, it's perfect.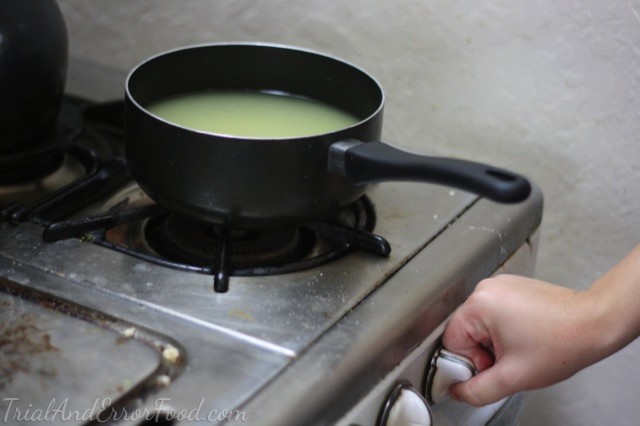 In a small pot, bring the stock/ water (or wine, seriously, try it) to a boil then reduce the heat to low.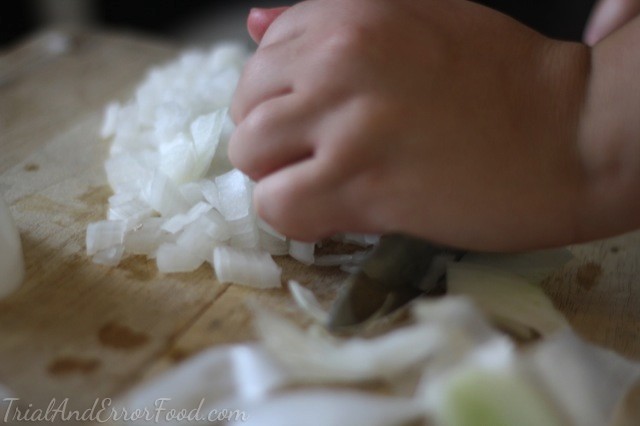 Chop your onion.  Hopefully your eyes take better to the onion than mine.  But really- anyone have any real suggestions?  I'm not sure I buy the whole matchstick myth.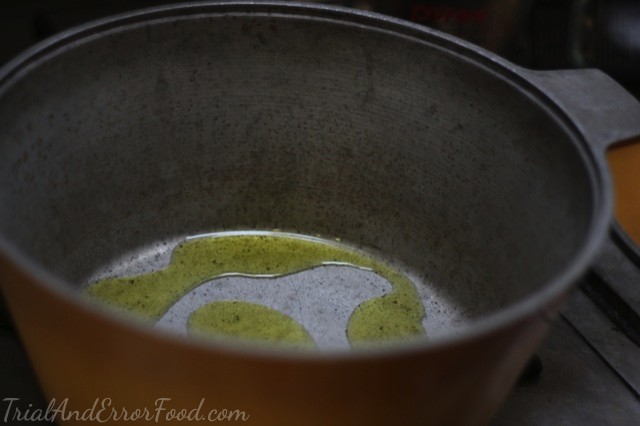 In a large pot, drizzle in the olive oil.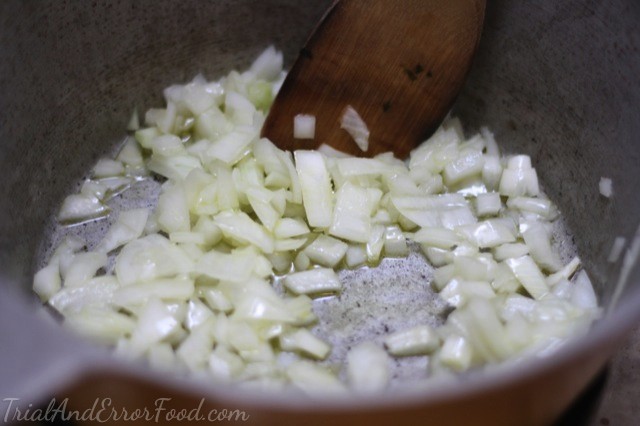 Cook up yer onions until translucent.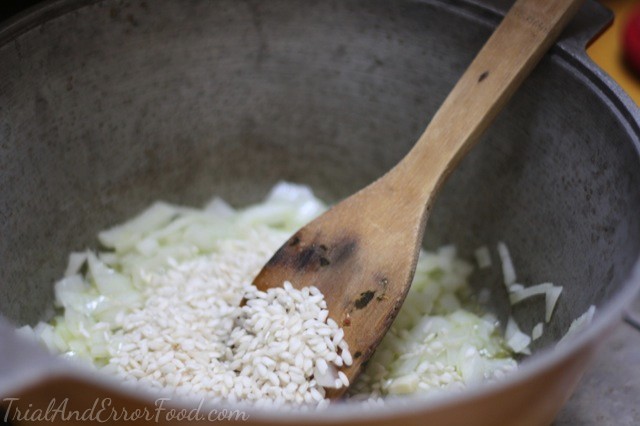 Slowly add in your risotto, about a half a cup at a time until everyone in the rice colony gets a good coat of olive oil.  No rice left behind.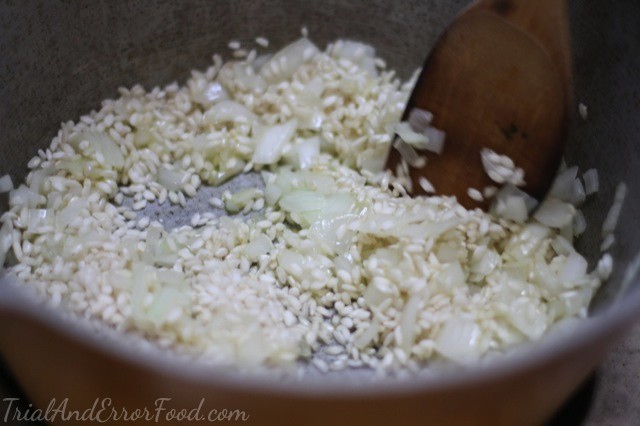 See?  They're all included and happy.
Risotto is a bit of a fickle thing.  It needs constant attention, so once you get going, get comfortable.  This could be another time where you practice your rapping skills, or have a friend make up a story with you as a princess, or look at these.  You have about 20 minutes of hands on time to be entertained.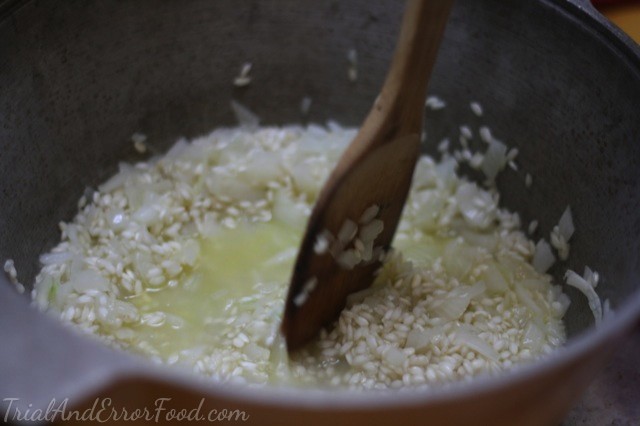 Slowly, add your liquid.  Add in about a half a cup at a time, constantly stirring, making sure the liquid is absorbed into the rice before adding more.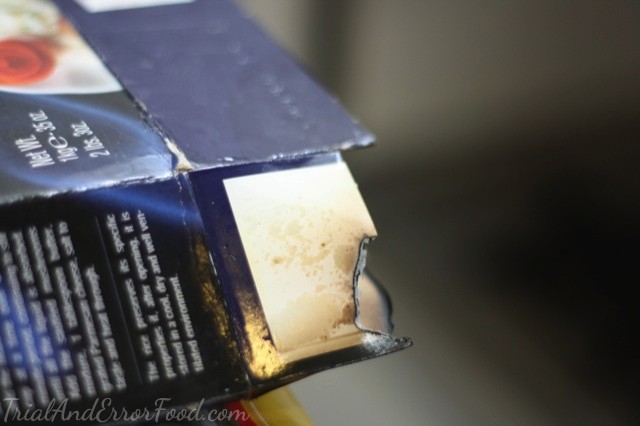 While you're stirring and passing the time, I'd double check that your arborio rice box isn't on the stove IN the fire.  Pro tip.  You're welcome!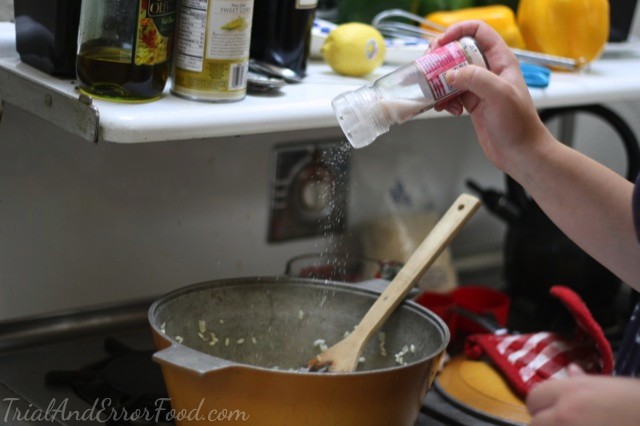 Look at you go, Kat! I mainly added this picture because my talented photographer Kat somehow managed to capture every grain of salt. She. Is. So. Cool.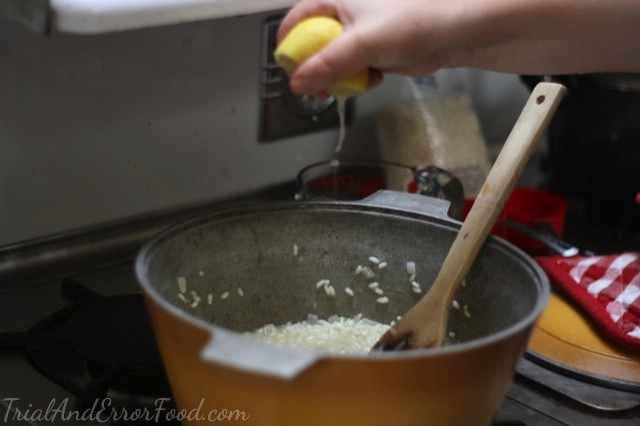 Squeeze in lemon to taste. I like it pretty tangy so I used the juice of a whole lemon.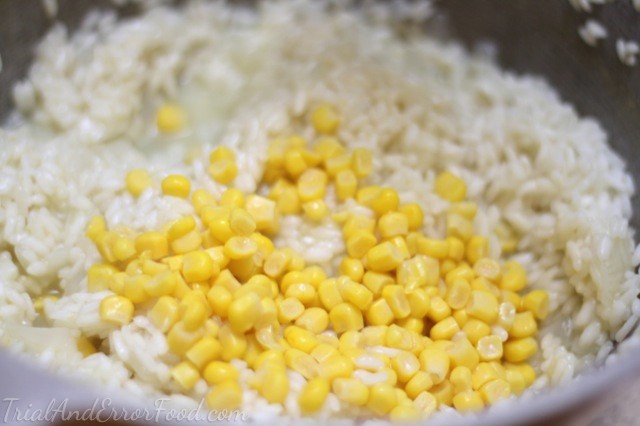 Once most of the liquid has absorbed, add in the corn. Feel free to add in other veggies or meats, corn was an impulse buy at the register because it was cheap and the sweet kernels would mix in nicely without overpowering.  Normally this is where I would add in the cheese mountain, but Kat isn't a big dairy fan, and since I love her I stuffed a couple peppers sans cheese.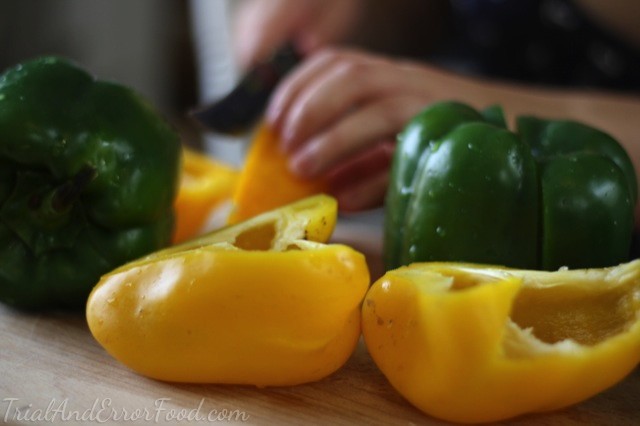 Cut peppers in half.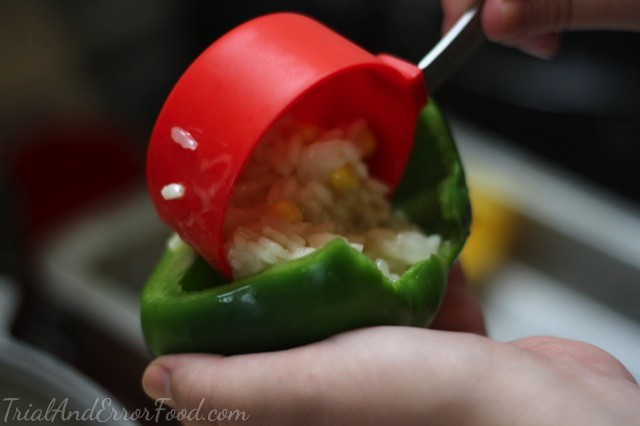 Kat's peppers.  They need company.
Ahhh yes, my favorite part.  Add in about 3/4 of the cheese.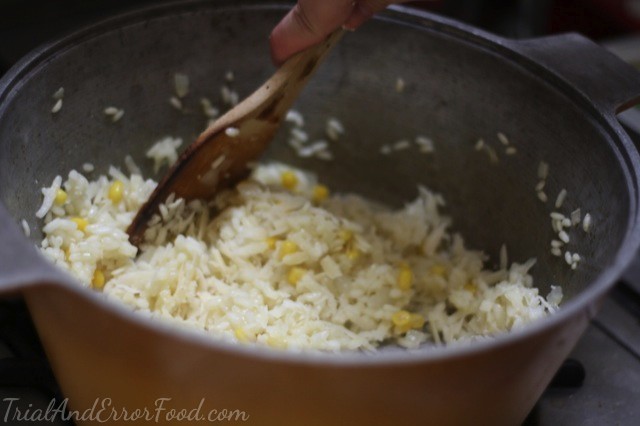 Stir in, until melted and delicious.
And continue the stuffing!  If you have any cheese-free peppers, make sure you note those.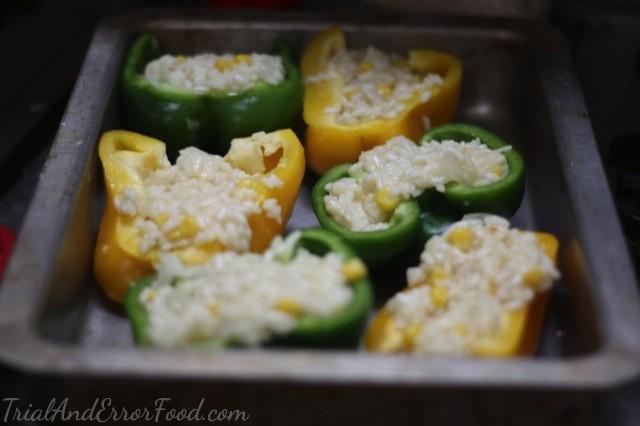 And put 'em in the oven to bake for about 40 minutes.
At 40 minutes, pull them out and sprinkle the tops with the rest of the cheese mountain and let bake for another 10 minutes.
And there you have it, party people.  Happy eating!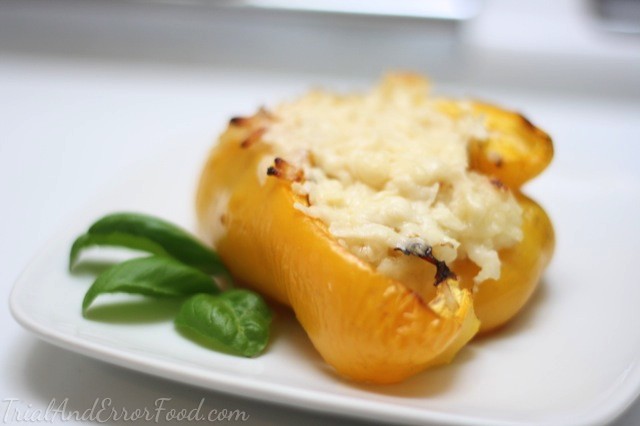 Photo Credit Kat Martin
Risotto Stuffed Peppers Recipe
1 1/2 cups Arborio rice
3 cups chicken stock
3 bell peppers, any color
1 cups water (or white wine)
2 cups pecorino or parmesan cheese plus a little more to sprinkle (I just grated the entire hunk-o-cheese and added to taste)
1/2 white or yellow onion
2-3 tablespoons olive oil
1 lemon
1/3 cup corn
Salt to taste
1. Preheat over to 375 degrees f
2. Prepare stock/ water (or wine) in a small pot and bring to a boil, turn to low
3. Grate cheese
4. Chop onion
5. In a large pot add oil, add in onions when oil is hot and cook until translucent
6. Add in arborio rice 1/2 cup at a time until covered with oil
7. Add a cup of the liquid to the rice, cook until absorbed
8. Continue to add liquid 1/2 cup at a time, constantly stirring until it is absorbed before adding more liquid
9. Once most of the liquid is absorbed, squeeze in the lemon
10. Once liquid has completely absorbed, add salt to taste, corn and 3/4 of the grated cheese, remove risotto from heat
11. Cut peppers in half
12. Stuff peppers with risotto and arrange on a baking sheet
13. Bake for about 40 minutes
14. Sprinkle remainder of cheese on tops of the peppers and bake for 10 more minutes
15. Let cool for 5-10 minutes and enjoy!