So like I said in my previous post it's not that I was slacking last week, it's that I was just a touch busy tearing it up at the HAPPIEST PLACE ON EARTH. And boy is it ever. I love Disneyland. I don't know how to put into words how MUCH I love Disneyland. And I don't care about anybody's lectures of consumerism/ crying children/ blahblahblah. They're wrong.
I. Love. Disneyland. Crying kids and all. I'm convinced they're only crying because they're so happy. So happy to be riding rides and stuffed with treats all day.
And like I said in my last post, my favorite Disneyland treat lives in Pooh's Corner, a candy store in Critter Country right by the exit of the Winnie the Pooh ride. It's the Peanut Butter Sandwich and it's pure bliss. Chocolate-dipped graham cracker smothered in peanut butter and given a second bath in delicious chocolate to cover the whole thing.
I didn't get one this go-around because it was painfully hot, but when I got back to San Francisco it was noticeably cooler and I desperately wanted one. Longed for one. Needed one.
So of course I decided to make them. But as you lovely readers could have probably guessed by now, I couldn't just do the run-of-the-mill peanut butter sandwich. It needed a twist, and a can of pumpkin gave me the bright idea to make this treat a little more festive.
It was a definite leap in the dark, so I only did half of my sandwiches with the pumpkin frosting, but after tasting there is no doubt that I would cover the entire batch if I could go back again. It was delicious beyond delicious, a huge crowd pleaser and incredibly easy. Let's get to it!
Make sure to click on the orange drop down boxes at the end of the post for the recipes!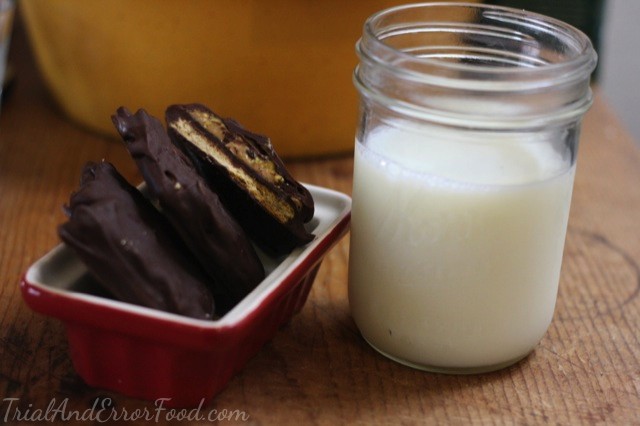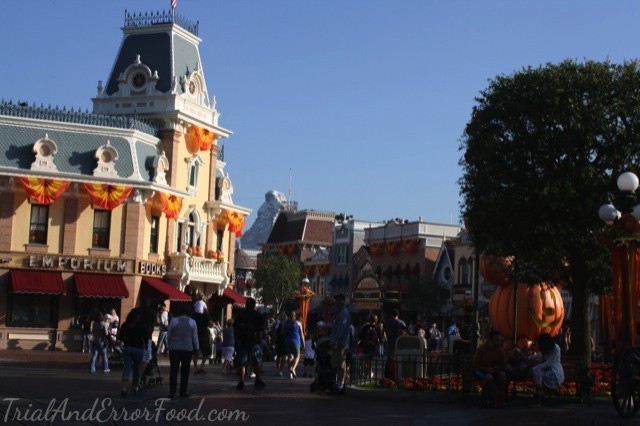 Oh you thought you were going to get through this without any Disneyland pictures, didn't you?? WRONG!! Isn't it beautiful???  I love the re-theming of the parks for the holidays.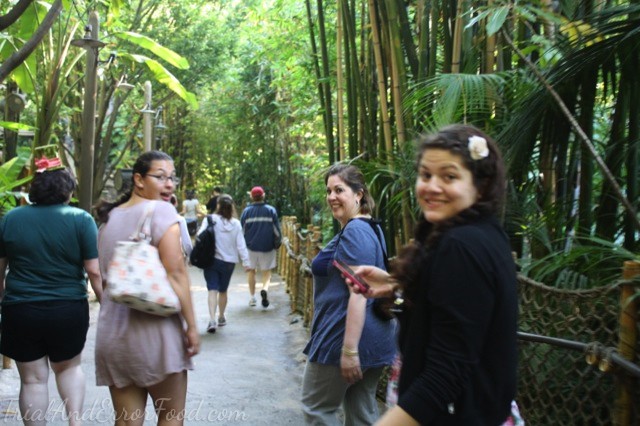 Action shot of us coming out of Indiana Jones.  Best.  Ride.  Ever.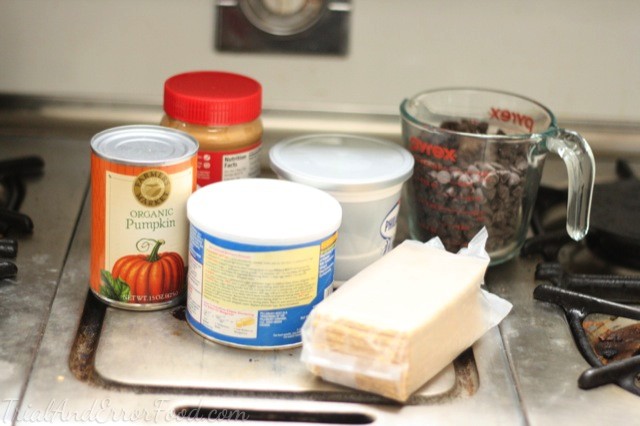 Ooooooooooh, this is a food blog??  Alright, enough Disneyland pictures.  Here are the ingredients to achieve Disney bliss- good chocolate chips or chunks, graham crackers, whipped cream cheese, vegetable shortening, peanut butter and pumpkin.  AND go ahead and pretend there is allspice and confectioners sugar in this picture because you're gonna need those too.  Hey, if you know me, you know this whole blog ordeal is a miracle in and of itself, so I get a little slack, right?  Thanks.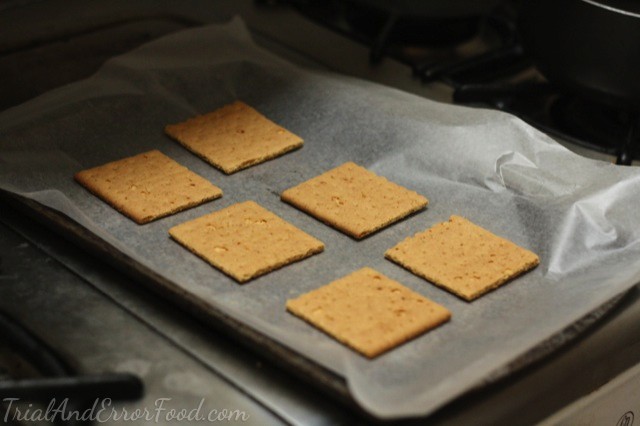 Start with getting your graham crackers arranged on a parchment paper lined baking sheet by your chocolate melting station.  I tried the night before to just lay the graham cracker on a plate and it was a distaster so the parchment paper comes highly recommended.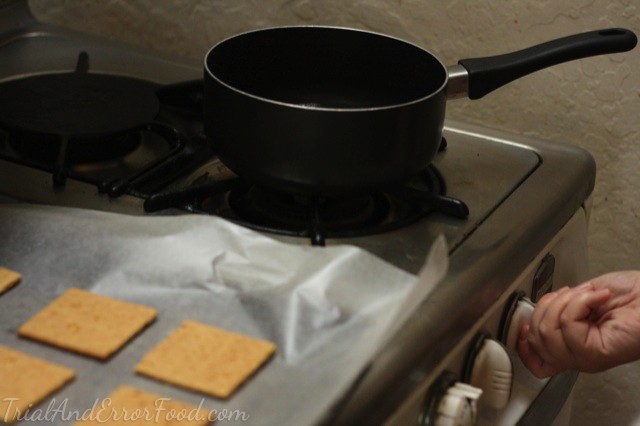 You excited to get your double-boiling on?  Fill a medium pot about an inch or so high with water and bring to a boil.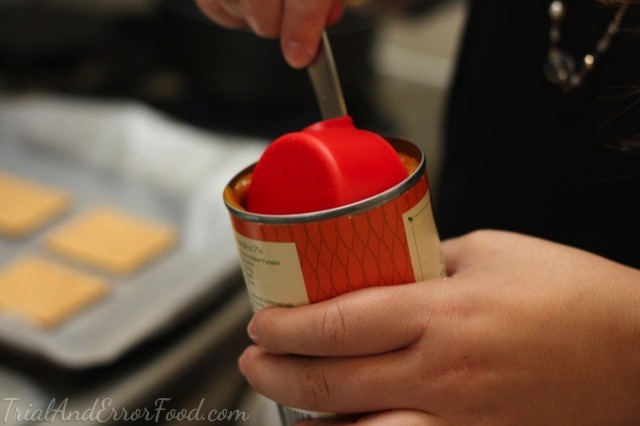 While I was waiting for my water to boil I made my pumpkin cream cheese frosting (DELICIOUS).  I'm sure you could use pumpkin pie filling but I honestly never bother with that stuff.  If you can, just go for the pure canned pumpkin.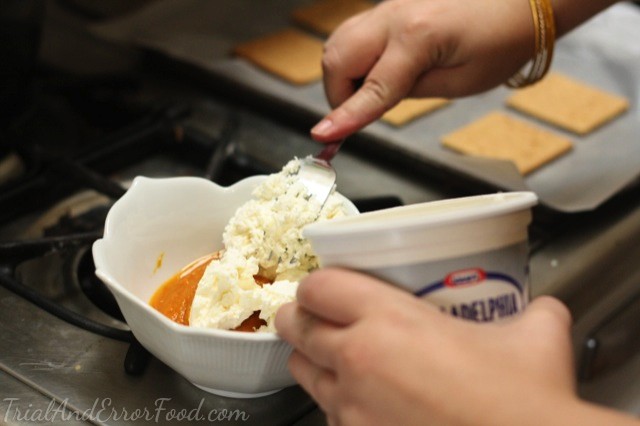 Combine your cream cheese and pumpkin.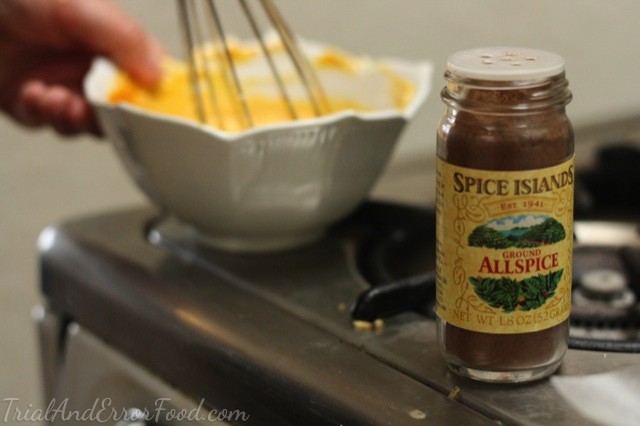 Add in allspice.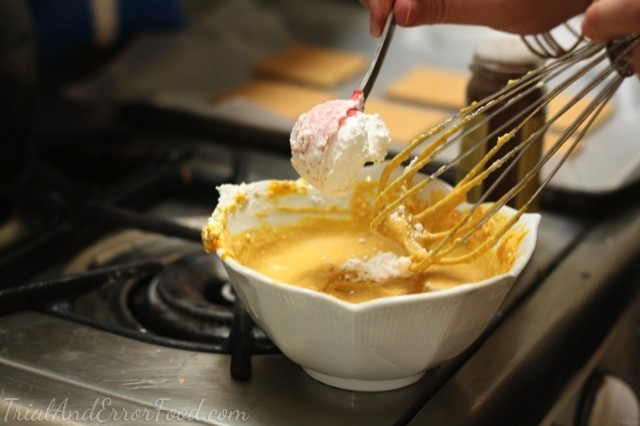 And confectioners sugar.  Mix until combined, and set aside.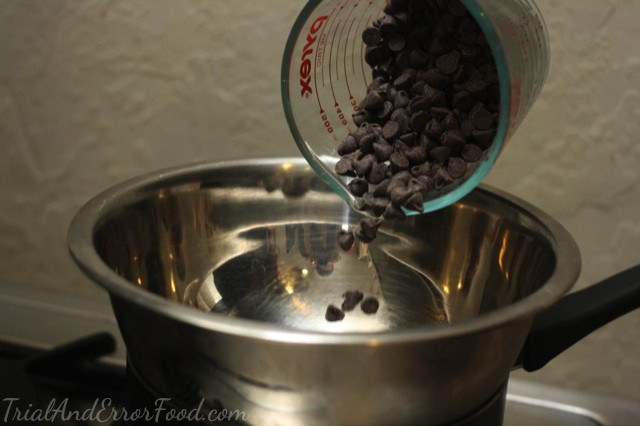 Time to melt the chocolate.  Place a slightly larger bowl in the pot you're boiling water in.  It needs to be able to sit in the pot without touching the bottom.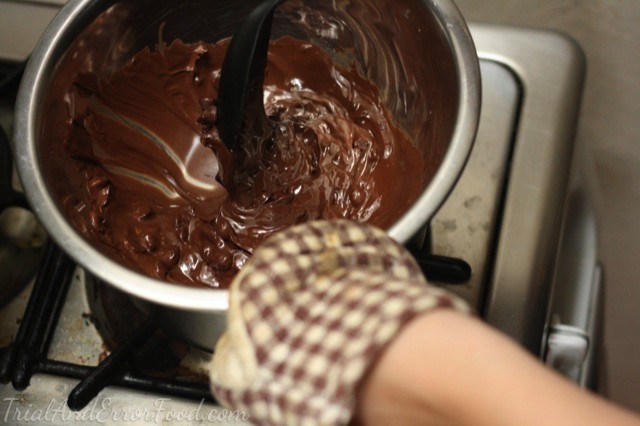 Stir constantly until the chocolate is melted.
Add in shortening.  I tried skipping the shortening when I test ran this recipe the night before, but the shortening keeps the chocolate pliable even when it sets.  If you skip the shortening it's difficult to bite into the chocolate, and why would we want anything to get in the way of enjoying this masterpiece?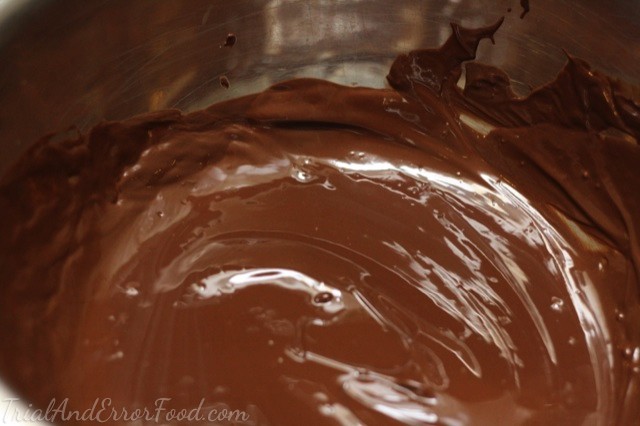 Ah yes.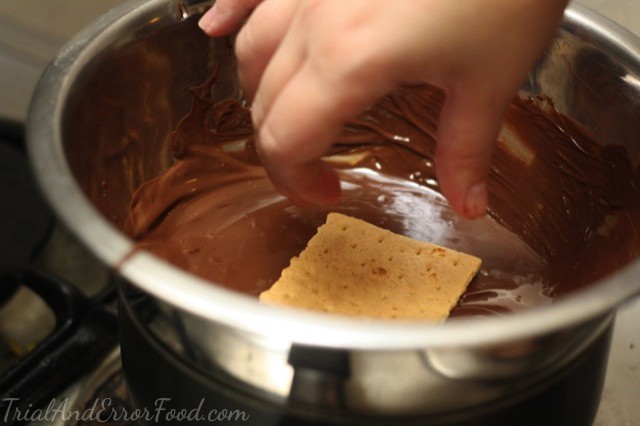 Dunk the graham crackers in the chocolate.  I first tried with my hands, but the chocolate is seriously molton, so I opted for a little help from some tongs.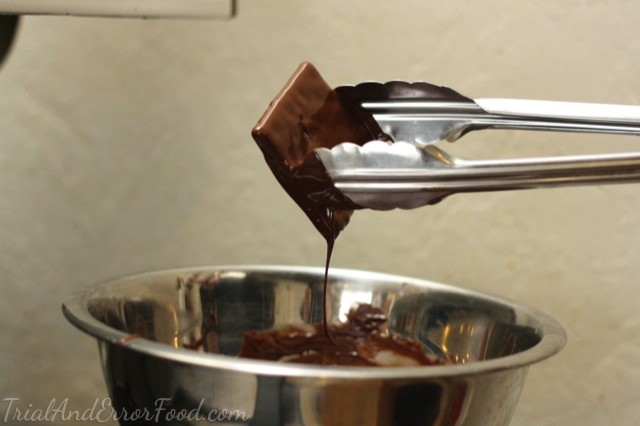 Much better.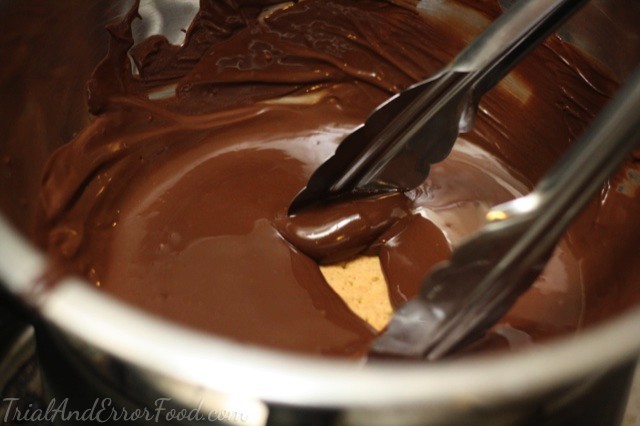 Ooooooh man.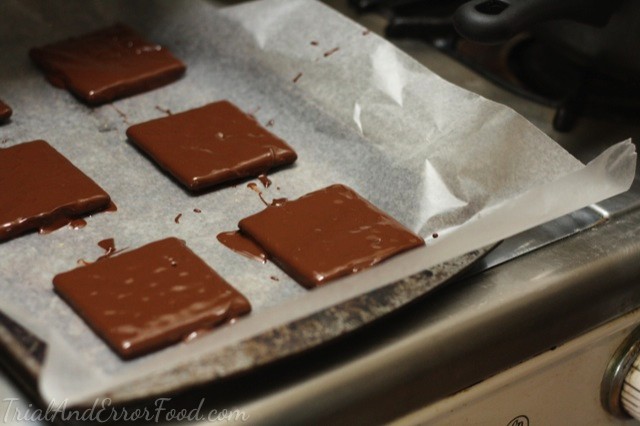 Line them on your parchment paper, and let them set in the freezer for about ten minutes.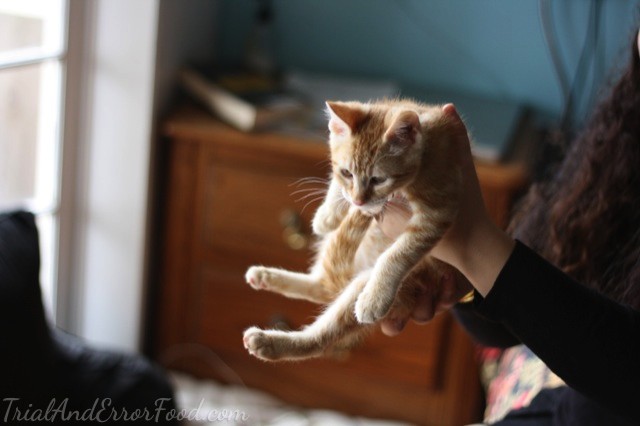 There's a new addition to the house that goes by the name Snuggles.  What's the perfect thing to do while waiting for chocolate to set, you ask? Why, play with a crazy adorable kitten whilst singing this, of course. Can't imagine a better way to spend my time.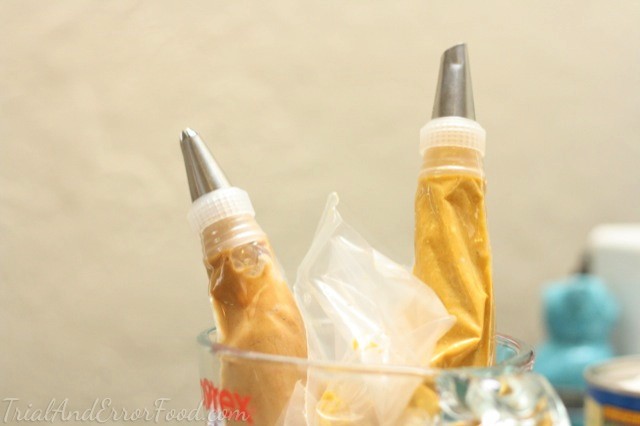 I know most people don't have piping bags, and a spoon works just as well for spreading the peanut butter/ pumpkin frosting.  But I DO have piping bags, and this just seemed easier so I filled up a couple of bags with my sandwich accoutrements.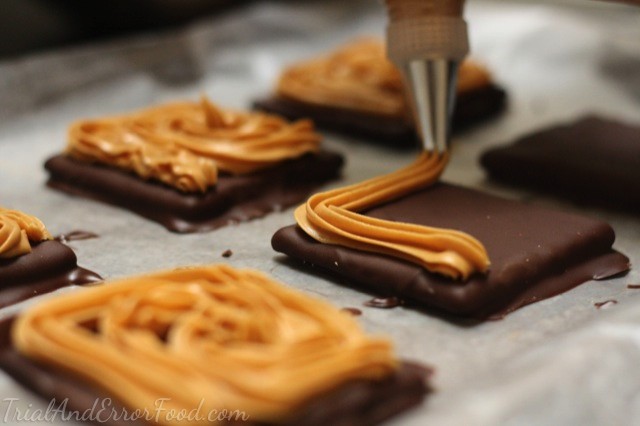 Once the chocolate on the graham crackers has set, spread or pipe the peanut butter on each graham.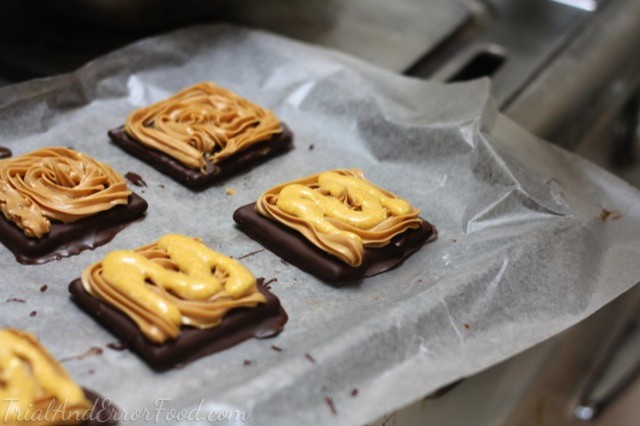 Continue with the pumpkin frosting.  I piped M's on mine for Mickey.  Mature, I know.
I tried piping the chocolate on top, but that turned out to be a horrible mess (note, the chocolate covered one on the top left) so it was decided a spoon was the best tool for this job.  I started with dropping a dollop of chocolate on the top and then spreading outward from there.  After you cover all your grahams, let them set in the freezer for another ten or so minutes.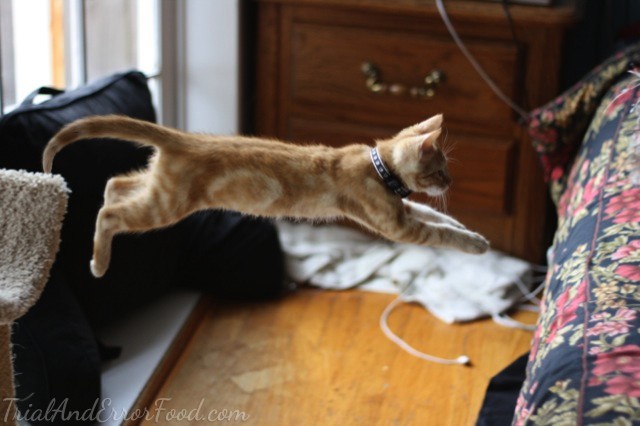 Go and play with the cat again. Kat and I were trying for quite a while to get snuggles to jump.  It was a bit of an ordeal.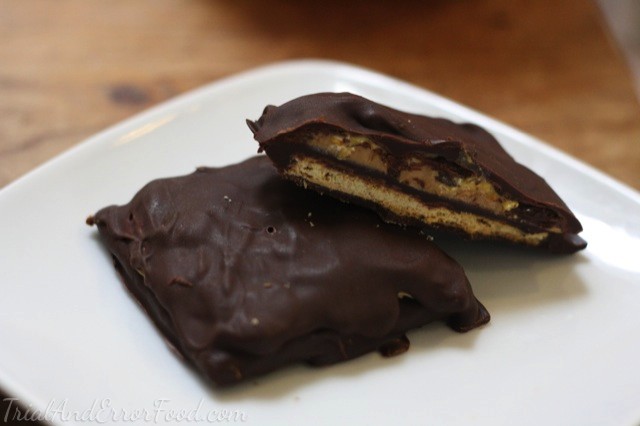 Once the chocolate is set, enjoy!!!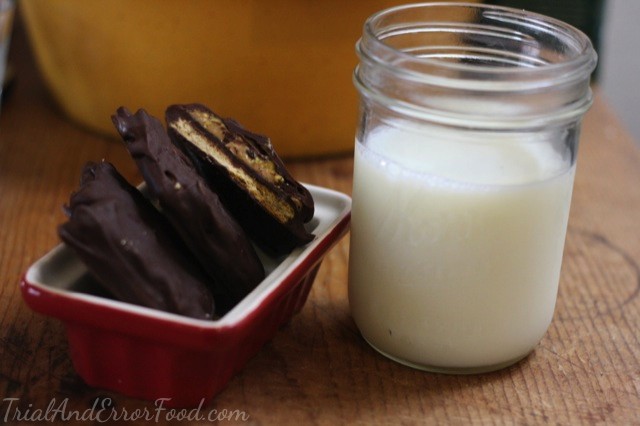 They're even better when you eat them with a big glass of ice cold milk while watching Disney movies.  Enjoy!
Photo Credit Kat Martin
Pumpkin Peanut Butter Sandwiches
Adapted from
this Picky Palate recipe.
6 graham cracker halves
2 cups (good) chocolate chunks (I used good chocolate chips).
2 tbsp vegetable shortening
1 cup creamy peanut butter
1/2 cup pumpkin cream cheese frosting (see recipe)
1. Fill a medium pot about an inch or so high with water and bring to a boil.
2. Place a slightly larger metal bowl over the pot so it sits in the pot without touching the bottom, pour chocolate chunks in and stir constantly until melted.
3. Add shortening and stir until melted and combined.
4. Using tongs, dip graham cracker halves into chocolate and place on a cookie sheet lined with parchment paper. Set bowl of melted chocolate aside, being sure it keeps its consistency.
5. Place in freezer for about ten minutes until the chocolate has set.
6. Spread or pipe peanut butter and pumpkin cream cheese frosting on graham cracker halves.
7. Carefully spoon or pipe on the rest of the chocolate, and spread it with the back of a spoon or a knife to cover the entire sandwich.
8. Let cool in the freezer for another ten minutes and enjoy!
Pumpking Cream Cheese Frosting
3/4 Cup canned pumpkin
1/2 Cup whipped cream cheese
1 1/2 tbsp allspice
3 tbsp confectioners sugar
1. In a medium bowl start with the pumpkin and mix in the cream cheese until smooth.
2. Add in allspice and finally confectioners sugar until fully combined.