So yesterday, my friend and amazing photographer Kat turned her living room into a pirate ship. This is not unusual.
I decided that the new renovations to the place along with the scorching September San Francisco heat called for something special. Something delicious. Something slow cooked and smothered in barbecue sauce. Something like pulled pork.
Pulled pork has got to be one of my favorite meals on the planet and I've got my friends hooked as well ever since I made it for them on Easter. It requires short hands-on time, but a lot of waiting. It's a slow cooked meal that takes all day, but the crock-pot does the work for you and it is beyond worth it. Trust me on this. Have I lied to you yet? I deserve your trust by now.
And while I don't own a crock pot (although it's on my wish-list), a friend's mother is kind enough to let me borrow hers when I get a craving. I'm sure if you don't have one, someone you know does and if you compensate them with a few of these sliders, they'll never hesitate to let you borrow it on a whim.
Make sure to click on the orange drop down boxes at the bottom of the post for the recipes!

Enough talking! Let's get to it.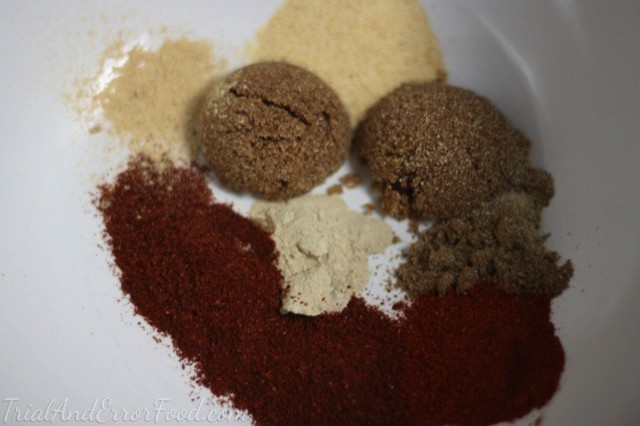 All pulled pork recipes call for different marinade methods- my favorite by far is a dry rub marinade. I've used recipes in the past, but a dry rub is something you can easily improvise. For this dry rub I used Brown Sugar, Coriander, White Pepper, Black Pepper, Paprika, Chili Powder, Garlic Powder and Ginger. Bonus points if you can arrange the spices to look like a smiley face.

Ohhhh sweet mercy it's beautiful. Pork shoulder, bone-in with all that beautiful marbled fat. Don't be afraid of the fat and the bone, they remove easily from the rest of the cooked pork during the pulling process at the end. With their powers combined, the bone and the marbling deliver nothing but deliciousness. Pro tip, y'all.

Smash up the lovely spice smiley face.

Rub dowwwwn. This is sexy, right? I thought so, too.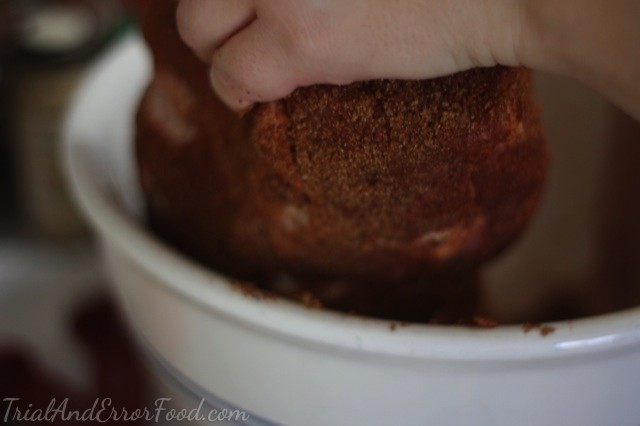 Oh baby.

If you have the time, I highly recommend wrapping the newly rubbed down hunk-o-pork in plastic wrap and letting it marinade for however long you have. I've marinaded for up to 8 hours and it allows all the spices to really absorb in. But if you're like me on this particular day and decide on a whim that you want pulled pork SOON, get yer crockpot ready.

First: Disregard my chipped nail polish. Second: Throw in previously rubbed down hunk-o-pork. Third: Add water. Or some sort of delicious liquid. My friends suggested beer next time- so prepare yourselves for that update! But with all the spices AND the liquid smoke coming up AND the barbecue sauce- the water is a good neutral to cook in.

Pour in the liquid smoke (yes and please), throw on the lid and cook on low for eight hours. Go share a milkshake with your friend and then buy beautiful but awful tasting desserts for your friends that you will later regret. Or you can continue turning your living room into a pirate ship. Or you can practice your rapping skills. The possibilities are endless really, after all, you have eight hours to kill.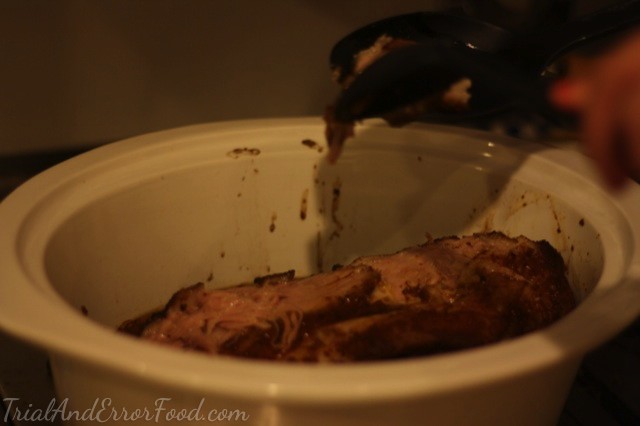 And eight hours later (and darker, whoops sorry!) you have got yourself all kinds of delicious meat.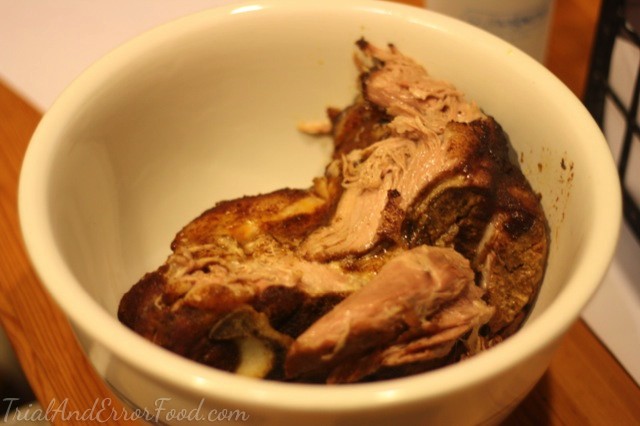 Remove the bone and skim the fat away.

Get yourself two forks and pull away! Pulling in opposite directions, shred the meat and bask in its glory. Beware of sneaky friends' hands. Set aside.

At this point, you could use a bottled barbecue sauce and add to the pork, but to be honest making a barbecue sauce from scratch is super easy and cheaper than a store bought sauce. If you decide to make your own (go you!) start with a ketchup base.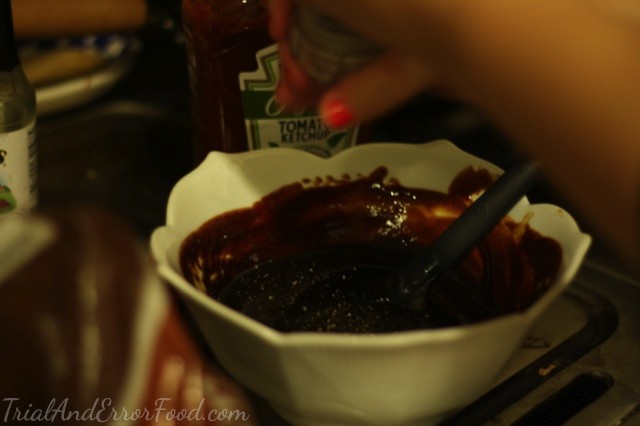 Add in molasses, white pepper, chili powder, brown sugar, coriander, and black pepper. I added vinegar to mine originally, but since ketchup is vinegary on its own, I'd probably skip this step next time.

Pretty right? Perfect blend of tangy, sweet and spicy.

Add the pork back to the cleaned out crockpot and pour the sauce over.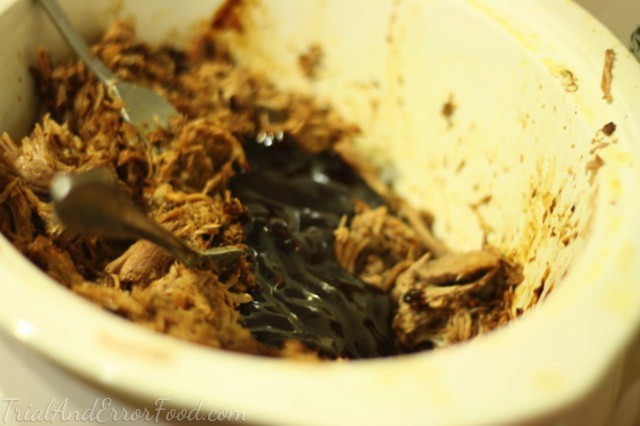 That is a barbecue sauce river in a pulled pork mountain. Is this real life? Whoa nelly. Mix in the sauce and let it cook on high for another half an hour or so.

The ONLY buns I will EVER use for these sliders are the Kings Hawaiian Rolls. Anything else will not do. If you substitute I WILL find out and haunt you for the rest of your life.

Pile the pulled pork goodness onto a sliced Hawaiian role and watch as the rest of it disappears in seconds.
Photo Credit Kat Martin
Pulled Pork Recipe
Bone-in pork shoulder (Mine was about 5 pounds)
1/2 teaspoon liquid smoke
1/4 cup water
2 tablespoons brown sugar
1/2 teaspoon coriander
2 teaspoons white pepper
2 teaspoons chili powder
1 teaspoon paprika
1 teaspoon black pepper
1 teaspoon garlic powder
1/4 teaspoon ginger
1. In a large bowl combine spices
2. Rub the pork with spice mixture
3. If you have the time, wrap pork in plastic wrap and marinade for up to 8 hours
4. In crock pot, add pork, water and liquid smoke
5. Let cook on low for 8 hours
6. Place pork in a large bowl and take out the bone and remove the fat
7. Using two forks, shred the meat by pulling in opposite directions
8. Place shredded meat back in crock pot and mix in barbecue sauce (see recipe)
9. Let cook for another half an hour on high
10. Pile on a Hawaiian bun and enjoy!
Barbecue Sauce Recipe
1 cup ketchup
3/4 cup molasses
2 1/2 tablespoons brown sugar
1/2 teaspoon white pepper
1/2 teaspoon black pepper
1/2 teaspoon chili powder
1/2 teaspoon paprika
1/2 teaspoon coriander
1. Start with a ketchup base
2. Stir in molasses
3. Mix in brown sugar and spices and enjoy!