Like many of my life ventures, a couple years ago a culinary curiosity was piqued by a Disney movie.  "The Princess and the Frog" puts beignets on display in such a way that I couldn't help myself.  I needed to try one of the french doughnut squares, fried and rolled in powdered sugar.  And then once I had one, I of course needed another.  And another.  And another.
By now I've made beignets more times than I can count.  My friends, knowing it to be a specialty of mine, often request it.  I kept making them, but they needed tweaking of some kind.  Fried dough? Yes. Rolled in powdered sugar? Delicious.  How could it possibly improve you ask?  Very much like improving anything else: add bacon.
And what better to compliment the warm, salty/sweet bacon-y fried square of dreams than a cool, creamy and light maple mousse.
Make sure to click on the orange drop down recipes boxes labeled "Maple Mouse" and "Bacon Beignets" at the end of the post!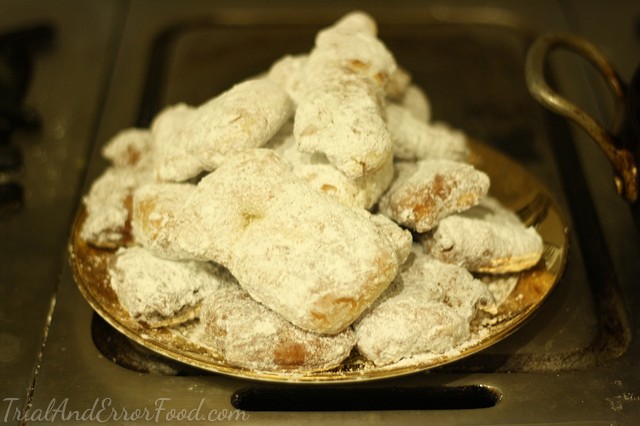 Let's do this.

MOUSSE TIME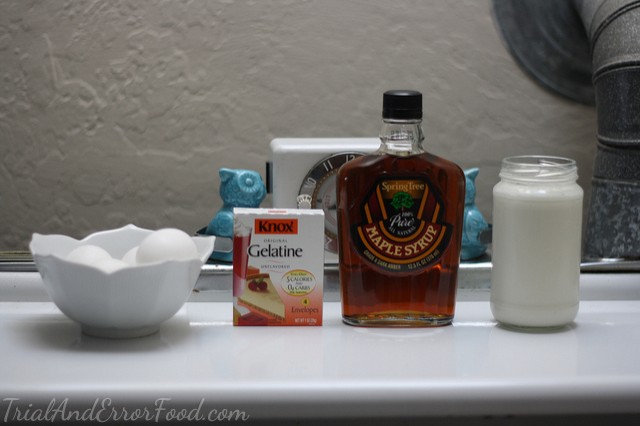 For the mousse you'll need eggs, unflavored powdered gelatin, pure maple syrup and heavy whipping cream.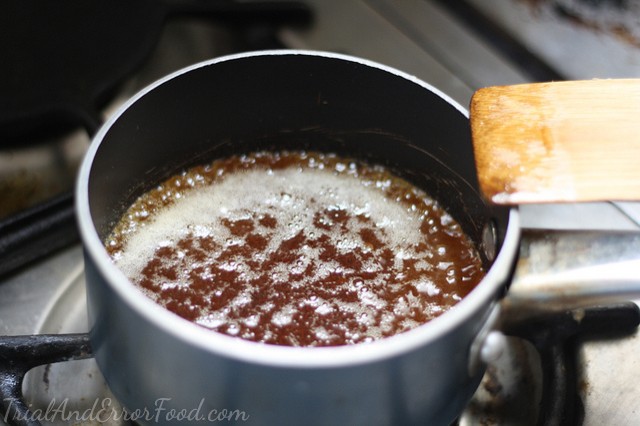 Bring the maple syrup to a boil, constantly stirring so you don't scorch the bottom. Then remove from heat and transfer to a medium bowl. At this point the scent of maple is permeating every inch of the house.  Prepare thyself.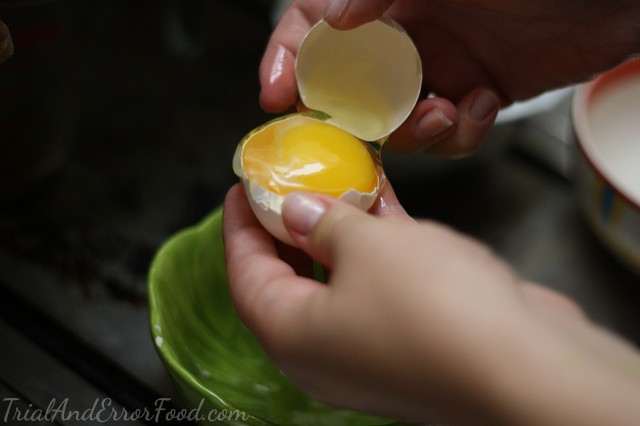 Separate eggs, save the yolks and scramble 'em in the bowl. You can toss the whites or save them to make something like an omelette to attempt to save you after the delicious diabetic shock this may send you into.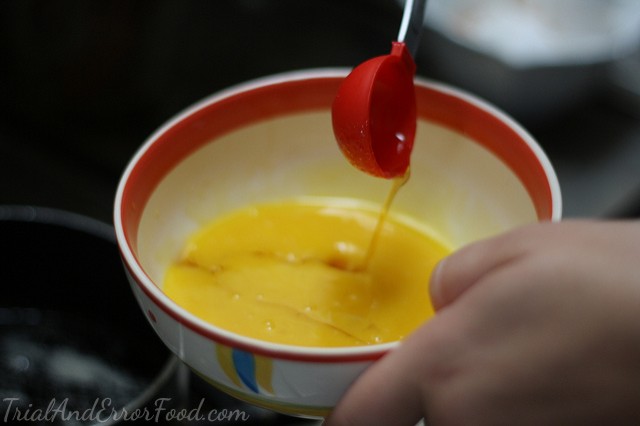 And now we temper! Slowly add a small amount of the hot syrup to the eggs. If we combined them all at once the eggs would cook from the heat of the syrup and cooking eggs yolks in maple syrup sounds disgusting. So we temper instead! Add a few tablespoons of the syrup to the eggs to bring up the temperature safely.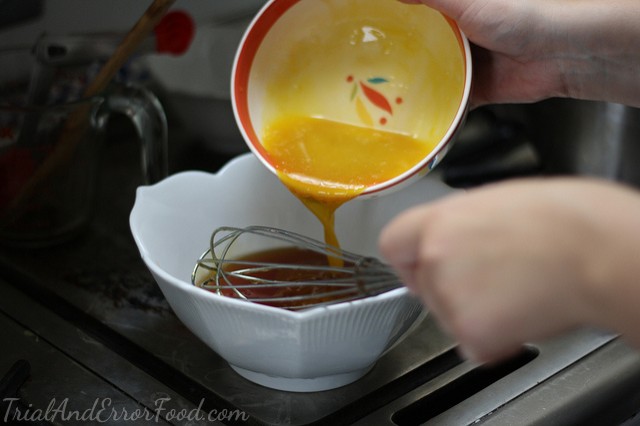 Now we can add the eggs to the syrup without getting some gross concoction.  Mix together and set the bowl aside. Now we introduce the gelatin and some of the cream to each other.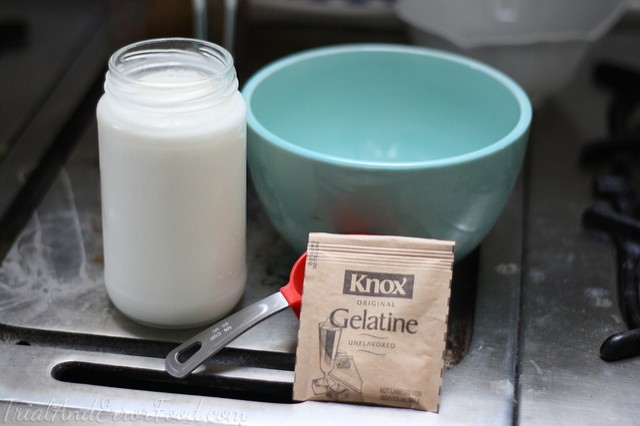 They look pretty hot together already.
Oh yes.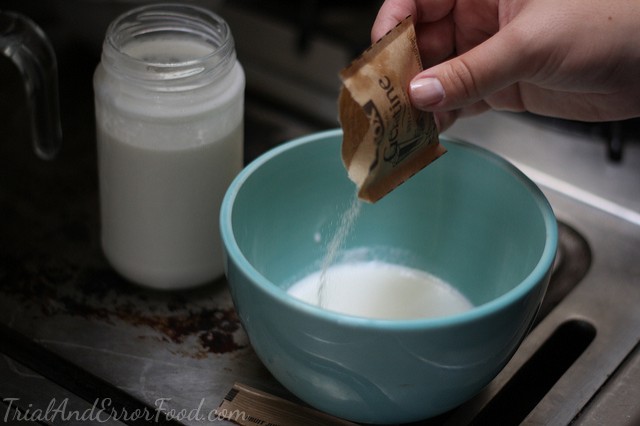 Oooh yes.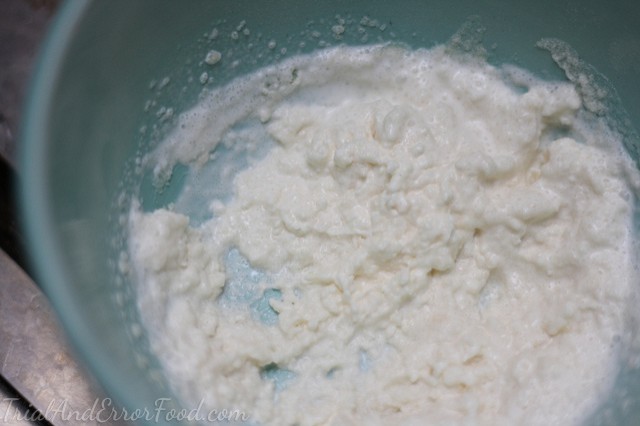 Oooooh…ew.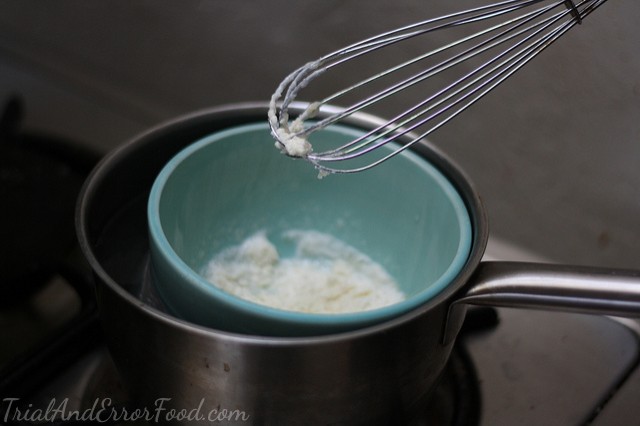 To force them together we have to add heat. In case you can't tell I'm double boiling the concoction. Normally you'd use a larger bowl that rests on top of the pot which contains gently boiling water. Well I couldn't find a larger bowl so I used what I had and plopped it in the pot of water. Extracting it was quite a sight, but it worked just as well as the traditional method.
ANYWHO- double boil until the gelatin/ cream mixture is smooth.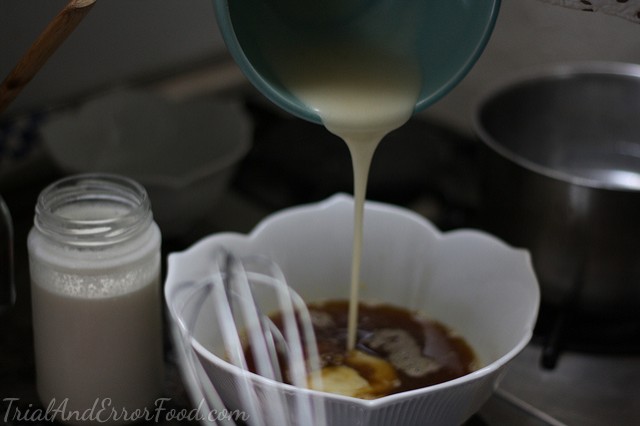 And combine with the syrup mixture.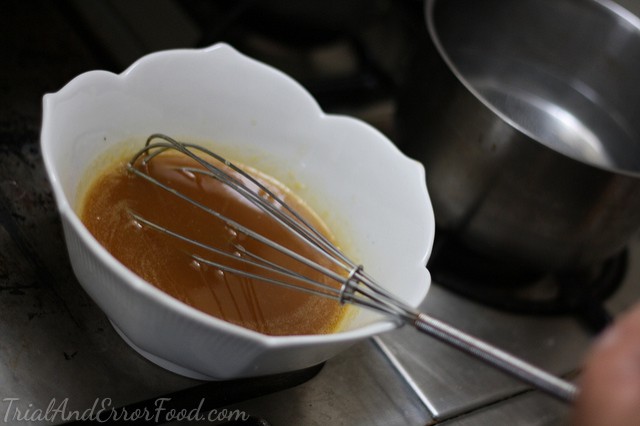 It should look like this. Set it aside for about an hour, occasionally whisking.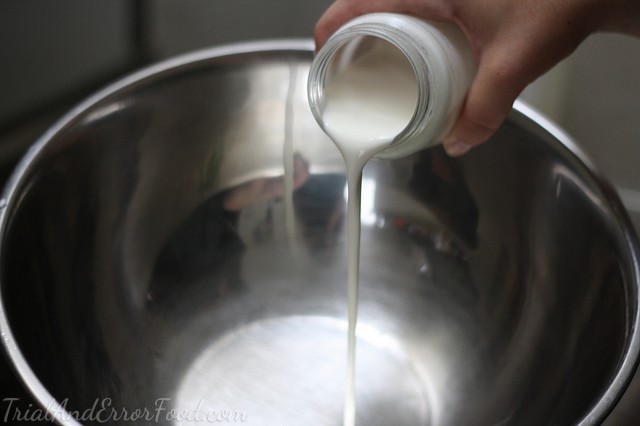 While the syrup mixture is working its magic, it's time to whip the rest of the cream. It works best if the cream and the bowl are cold.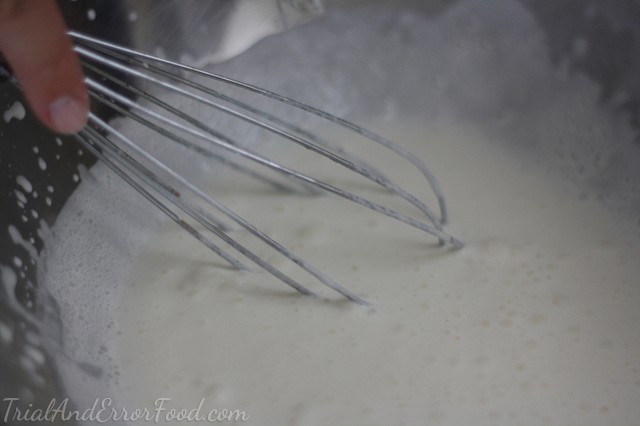 Annnnnd go! Keep in mind I'm whisking mine by hand since I'm too cheap to get an appliance that does it for me. With cold cream, a cold bowl and a warrior-like attitude you should get soft delicious mountains of whipped cream in about 5 minutes.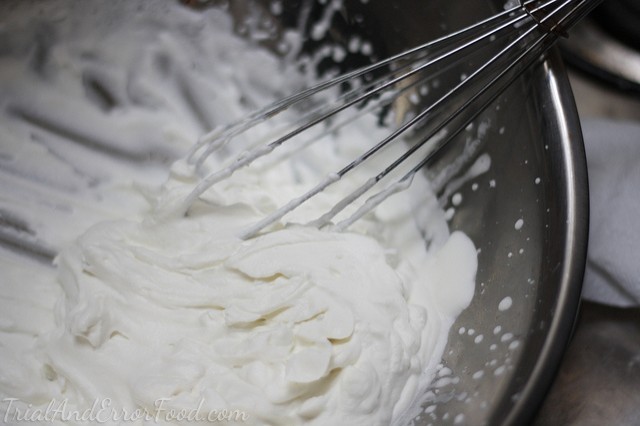 Look at that beautiful whipped cream. If you did it by hand congrats! Hopefully there's not too much sweat mixed in. If there is, hopefully no one saw.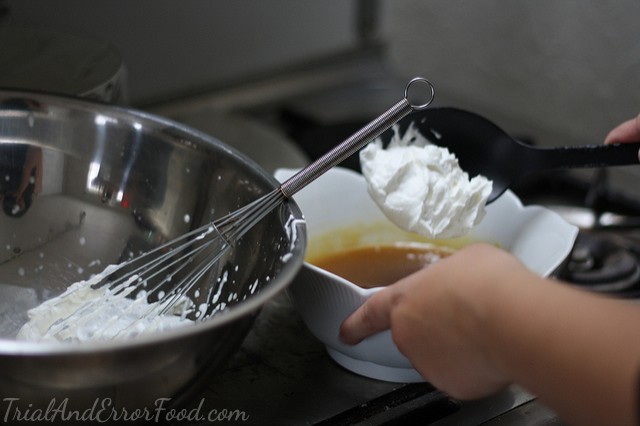 Once the cream is whipped and the syrup is set, they are ready to be combined.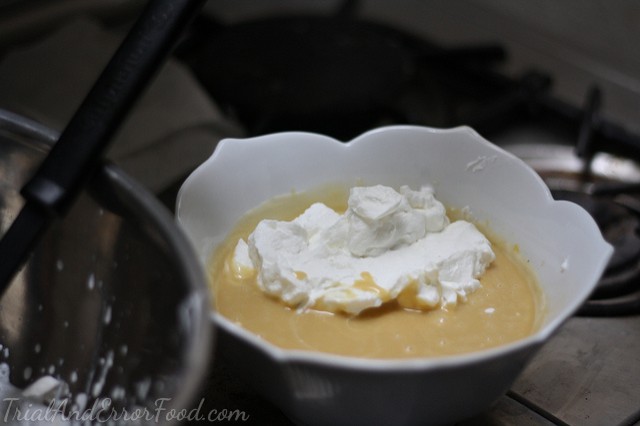 Keep going until all is combined.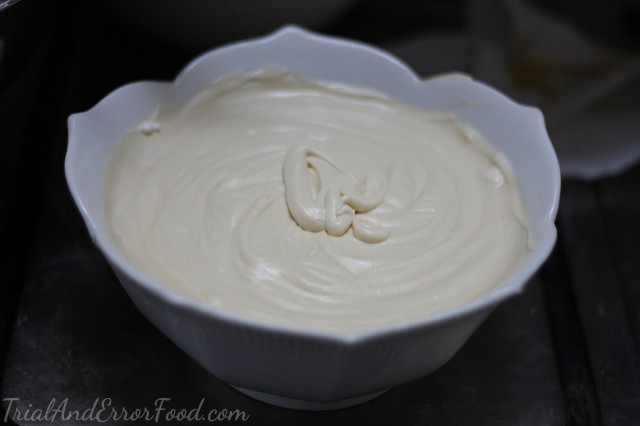 And voila! Your very own mousse is born. Let it set and cool in the refrigerator for about and hour. Looks delicious, right? Like you could just spoon it into your mouth and die happy? Ima offer a pro-tip and suggest you wait. Wait for the beignet…wait for the beignet…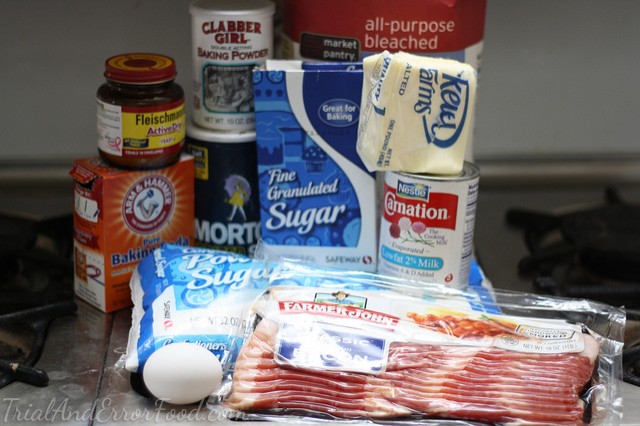 BEIGNET TIME! See all those wonderful ingredients?  Really look at them. I want you to pick up the baking powder and baking soda. Hold them in your hand. Appreciate them for what the are. And then put them away. YUP. My bad. I've made beignets that call for them and I assumed this recipe called for them, but when I was part way through the cooking process I noticed they weren't needed. But they add a nice touch to the picture, right?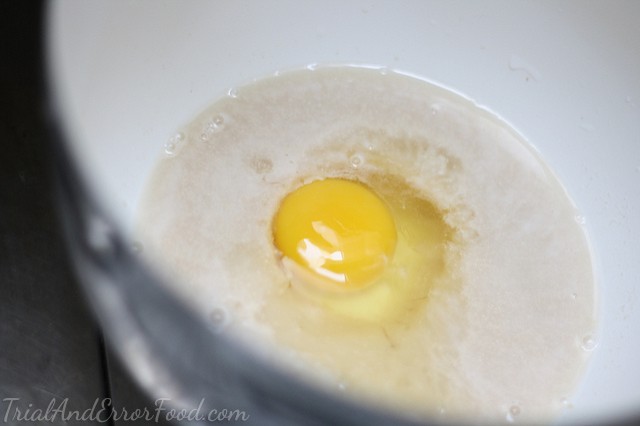 Combine the warm water (recipe officially says 110 degrees f, but I just get hot-ish water from the tap), yeast and sugar. Let sit for a few minutes and add the egg…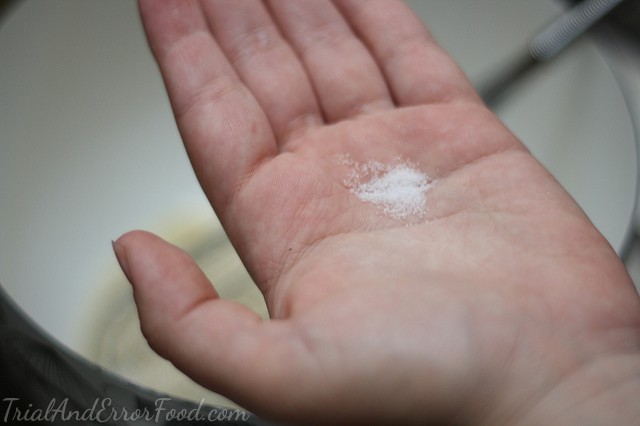 Generous pinch of salt…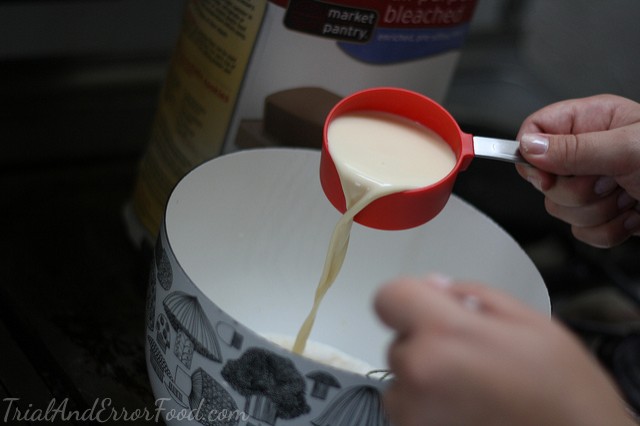 And evaporated milk. Mix well.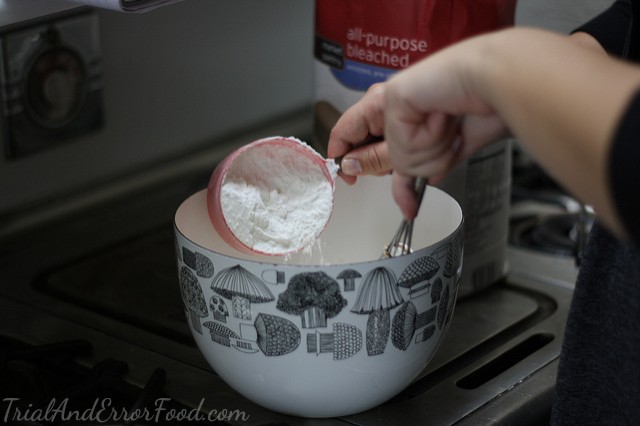 Slowly begin adding flour.
When you've added about half the flour, mix in butter. Here's my janky way of measuring and softening. But hey- works right? I'd rather say 'genius-ly innovative' than 'janky' but I have a feeling that I'll be typing it a lot in my posts so I'll stick with 'janky' since it's easier.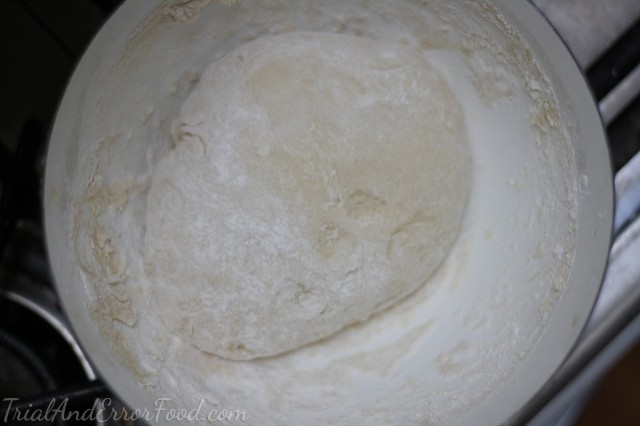 Add in the rest of the flour until the dough is no longer sticky. Form into a ball.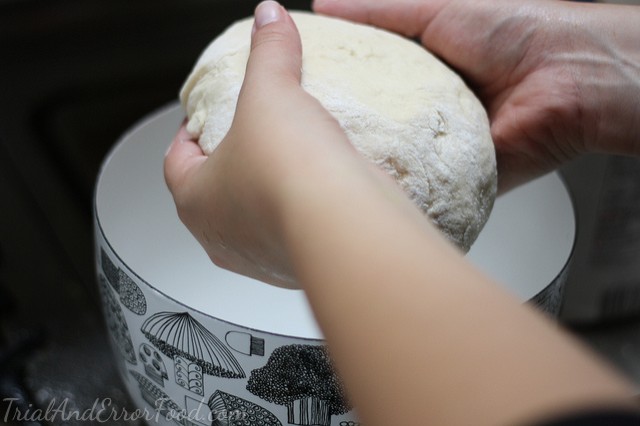 Add to a clean, well oiled bowl. Cover and let rise until it's doubled. About an hour.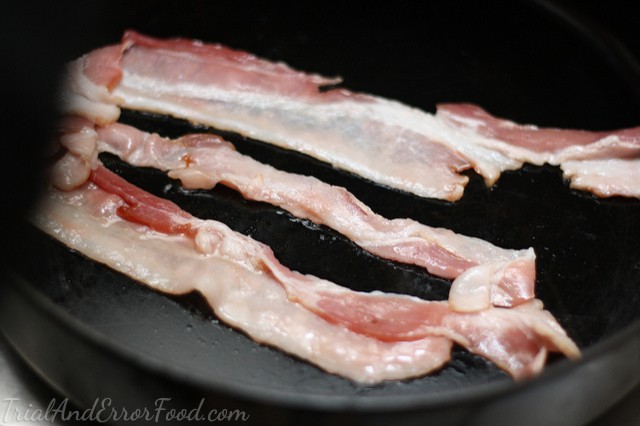 Time for bacon. My favorite time of the day.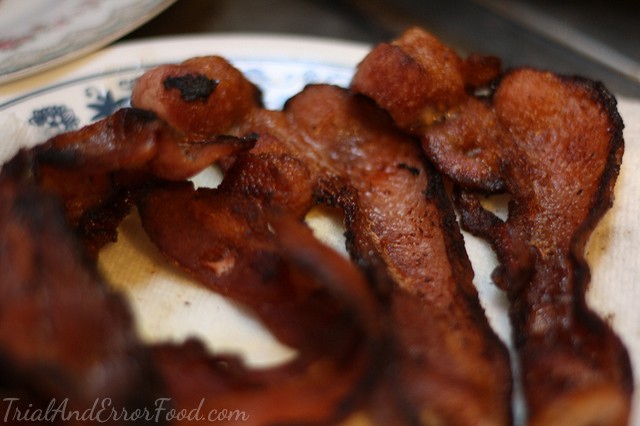 Cook until delicious. Cook up the whole thing too. I'm fortunate to have a large group of meat loving friends who save bacon grease for me to use on a whim. If you don't have a stock pile a bacon grease (what? not everyone does? weird.) cook up the bacon you have and mix in vegetable oil when you fry. It'll mix just fine with the grease.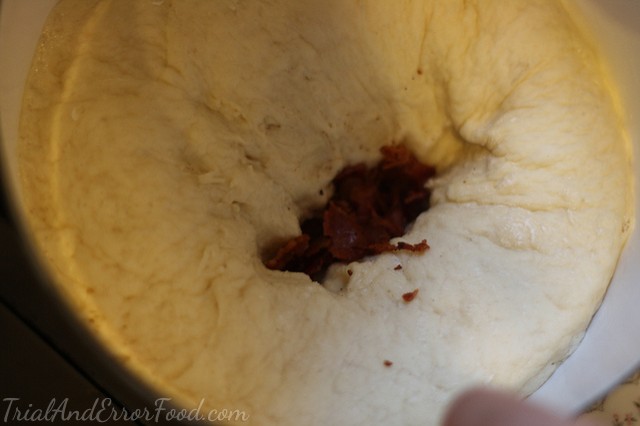 Crumble and mix the bacon into the risen dough. I ended up just using one piece of crumbled bacon, but by all means add as much as you desire.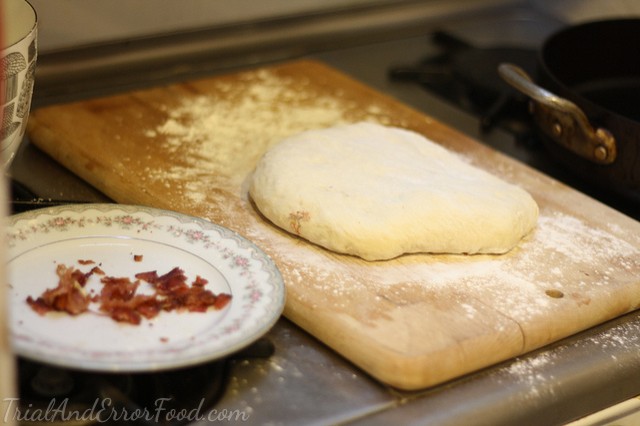 On a well floured surface, throw down the dough and prepare for rolling.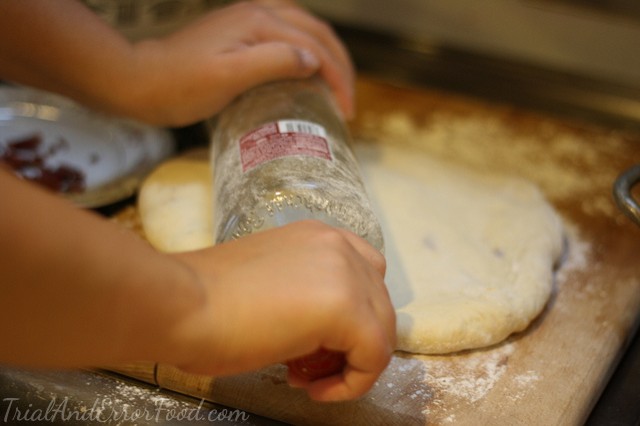 Are you surprised I don't own a rolling pin? No. You're not.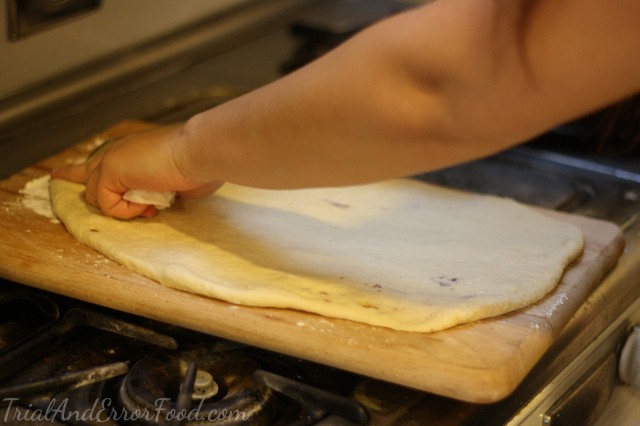 Roll the dough out until it is thin and stretched out. I'd say about a quarter of an inch.
Cut into squares.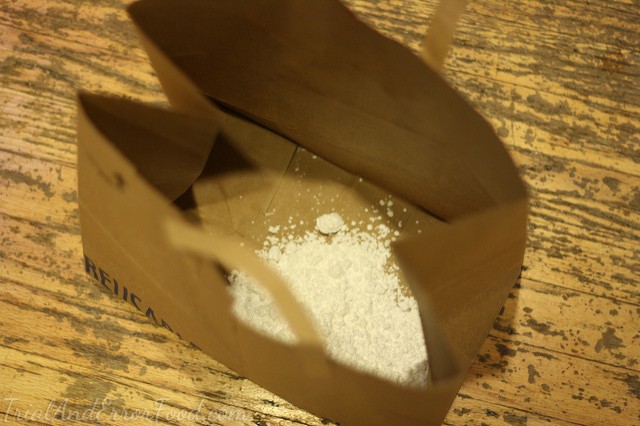 Add a generous heap of powdered sugar to a large paper bag. Place close by where you will fry so you can move the beignet from the pan right to the bag.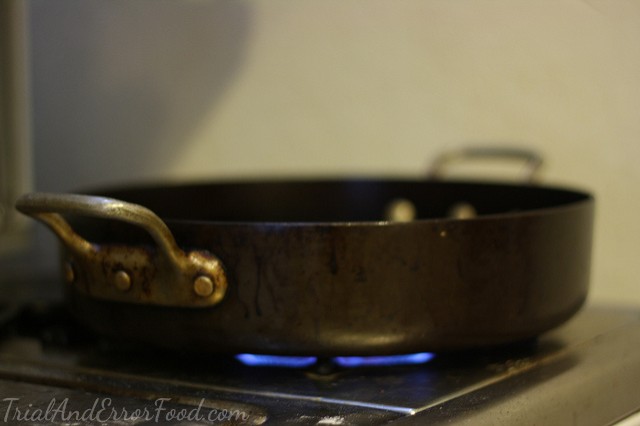 Heat your oil. You can use a deep pan like this or a larger pot as long as there's enough room for the beignet to float atop the oil. As for heating the oil, you could probably guess by now I don't have a thermometer. I've been working with oil long enough to know when it's hot. I wait a while, look for the sheen and throw in a smaller beignet to test it. If it cooks it's hot enough! It not, then it's not. Official temperature is 350-360 degrees f.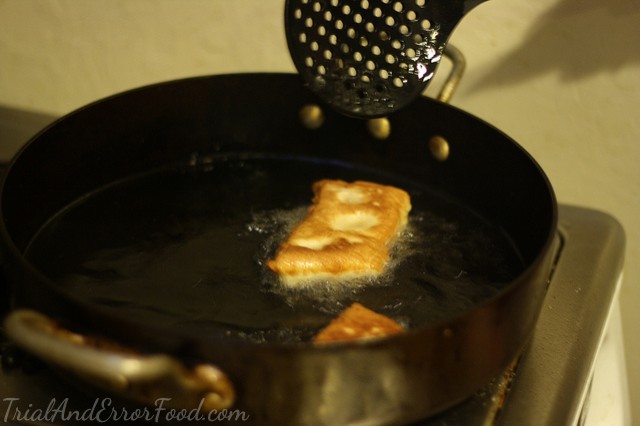 Once you have decided in you own (safe) way that the oil is the proper temperature begin dropping the beignets in. I would recommend dropping in one at first to get a feel for the cooking time. They cook pretty quickly, probably no more than 15-20 seconds on each side, but go by look. When it's golden brown on each side, drop it right into the powdered sugar bag. Wait until you have a few more in there to shake and then plate.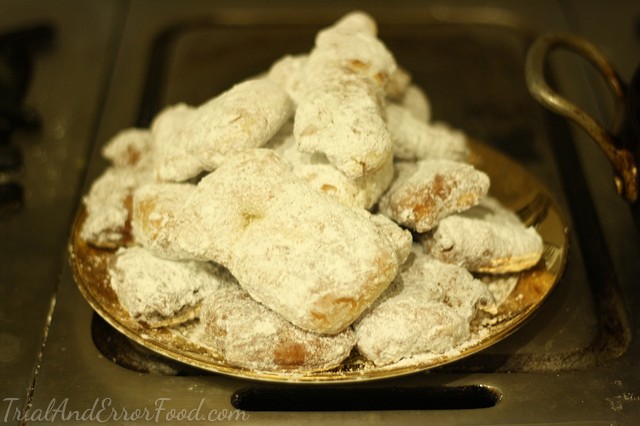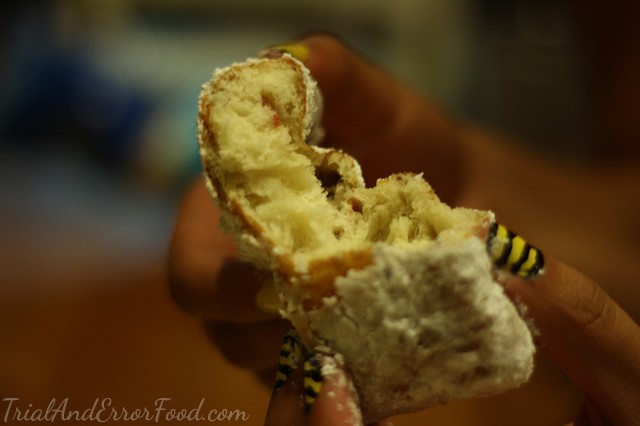 Oh so good. And Rhonda's nails look super cool. What could be better than a bacon fried beignet with bacon INSIDE? How about a little maple mousse to pair with it. Smear it on top. Get a big spoonful of beignet and dip it in the mousse. Plop one in your mouth and chase it with the other. Just make sure you get some because both go quick.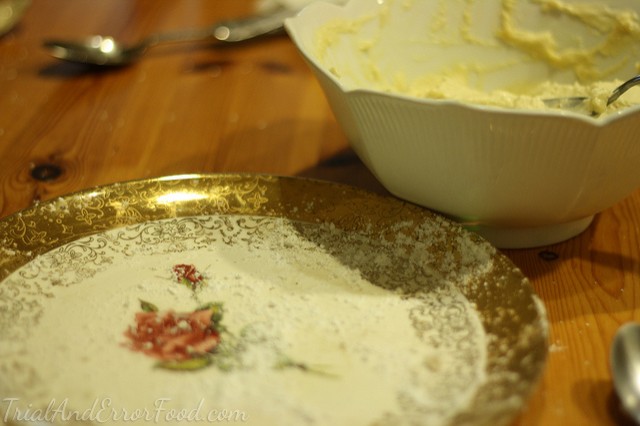 Photo credit Kat Martin
Happy eating!
Maple Mousse Recipe
Made from
this recipe
3/4-1 cup pure maple syrup (depending on your taste)
1 packet unflavored powdered gelatin
4 egg yolks
1 1/2 cups whipping cream
1. Boil maple syrup, remove from heat and transfer to medium bowl
2. Separate eggs, tossing whites and whisk the yolks
3. Temper the yolks by slowly adding a little of the hot syrup to the eggs
4. Once tempered add the yolks to the syrup, set aside
5. Measure 1/4 cup of the whipping cream and sprinkle the gelatin over
6. Double boil the mixture until smooth and the gelatin is completely dissolved and combined with cream.
7. Mix gelatin/cream into the syrup mixture, set aside for about an hour occasionally whisking
8. Whip up the rest of the cream
9. After syrup is set, slowly fold in the rest of the cream. Refrigerate about an hour or until set.
Bacon Beignet Recipe
Adapted from
this recipe
1 envelope (or 2 1/4 teaspoons) dry active yeast
3/4 cup warm water (110 degrees f)
1/4 cup granulated sugar
Generous pinch of salt
1 beaten egg
1/2 cup evaporated milk
3 1/2-3 3/4 cups all purpose flour
1/8 cup unsalted butter
1 package bacon
oil for frying (if you don't have enough bacon grease)
powdered sugar in a paper bag
1. Combine yeast, sugar and water in a big bowl. Let sit for about 5 minutes.
2. Add salt, egg and evaporated milk. Mix well.
3. Begin adding flour. About half way through add the butter and then mix in the rest of the flour. You may have to add more or less flour than the recipe, just keep adding slowly until the dough is no longer sticky.
4. Form into a ball and place in a large, well oiled bowl. Cover with plastic wrap or a towel and allow to double in size in a warm place.
5. Fry up all the bacon and crumble amount you want to add to dough. Save the grease and transfer to a deep pan or pot suitable for frying.
6. Once dough has doubled, add bacon and mix in.
7. Roll dough out onto a well floured surface, until about 1/4- 1/2 inch thick. Cut into squares.
8. Heat grease (add oil if you don't have enough grease) to 350-360 degrees f
9. Drop beignets in hot grease using a slotted spoon, frying on each side until golden brown.
10. Move to bag with powder sugar, give a good shake and enjoy!